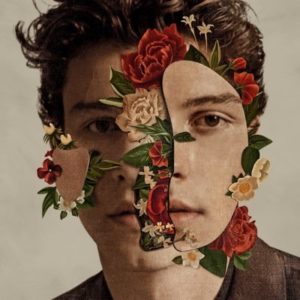 Starting his career in 2013 by covering some of music's hottest acts with six-second Vine videos, Canadian singer-songwriter Shawn Mendes has released his third album, which is self-titled. When asked what he wanted to sound like when signing to Island Records, he said "like Ed Sheeran," though three years later, Mendes sounds more like Justin Timberlake with a slick production, alongside a more jazzy and smooth style. 
Opening with the anxiety ridden "In My Blood," the songs dark, arena style sound shows fans where Mendes is going on his new effort, though it doesn't reflect the brighter jams and stories he tells on the rest of Shawn Mendes. With the bouncy "Lost In Japan" coming up as the album's third song (and the LP's second promotional single,) this is perhaps Mendes at his best, as the inspiration for the song came when Mendes was feeling "extreamly creative." On "Japan," Mendes employs more R&B stylings with a dash of Timberlake's feel good pop, creating a good bridge between his 2015 debut Handwritten and 2016's Illuminate. 
Slower songs like "Fallin' All In You," is the first track on Shawn Mendes that lets the audience take a breather, which he has always excelled at, considering he started with just an acoustic guitar and his voice. While it feels like it would not hold up as a single due to its more generic sound, "Fallin' All In You," will please fans that have followed Mendes since the beginning, as it showcases his voice. With numbers such as "Like To Be You," Mendes brings rising vocalist Julia Michaels on board to join him on the song. The second collaboration in his discography, the temporary musical partnership between both musicians was a great choice for Mendes. Produced by John Mayer, one of Mendes' biggest influences, Michael's calming and feminine touch lends an extra hint of sweetness to Shawn Mendes, without being to sugary sweet.
Ending the record with "When You're Ready," Mendes has released a record that continues to push the limits of his music. While he still writes with teenage naivety, it ultimately convinces us that Mendes is in music for the long haul, and the more we listen, the more new Mendes fans will want to explore the Mendes discography and the adult artist that he aspires to be. 
Listen to "Lost In Japan" below.