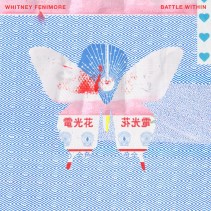 Arizona native and Los Angeles transplant Whitney Fenimore kicked off her career several years ago with her appearance on the NBC singing competition The Voice. Since then, she has captivated the music industry with her music that bridges the genres of pop, country, and folk. Now with her new EP Battle Within coming out today, Fenimore has dropped five songs that show off her gorgeous vocals, while proving that she is ready to play the music industry game that so few end up winning. 
Opening with quiet pop anthem "Find Your Love," the song reminds listeners of Austin, Texas country act The Wind and the Wave, as Fenimore has a voice similar to Wind front woman Patricia Lynn. With a slight 80's flare, "Love" is an excellent opening number, not to mention an excellent introduction to whomever may be discovering Fenimore with this body of work. 
The album's title track is the EP's third offering, and with a folk sound that includes a harmonica, Fenimore sounds ready to take over the radio with a voice that moves and soothes. While some country purists may argue that Fenimore's inclusion of country music in her sound, comes off as fake and forced due to its pop influences, Fenimore strikes back with a song showing off her chops and her ability to write a killer tune. 
Closing with the acoustic tinged "You Think You're Right (But I Do Too") featuring songwriter Robin Hedlund, the track is a beautiful duet that sounds reminiscent of the Taylor Swift and Ed Sheeran collaboration "Everything Has Changed" from Swift's 2013 album Red. While its unlikely that Hedlund will become an instant star after Battle Within is released, Fenimore and Hedlund's voices work effortlessly together to create an escapist track that has us wishing that Battle was longer. 
While its sometimes difficult to chart the path of independent artists, after listening to Battle Within, Fenimore sounds like she definitely has a good shot at achieving the musician life that she so desires. Only time will tell if she'll achieve it. 
Listen to "You Think You're Right (But I Do Too") below.
Featured photo: brittsmith.co