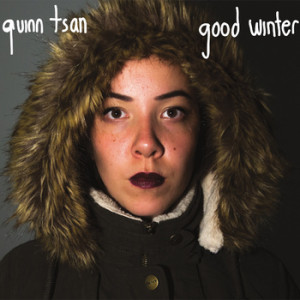 Good Winter, the debut EP from Chicago based songwriter Quinn Tsan, is a relaxing blend of acoustic pop that is perfect for anyone looking for a calming musical getaway. Tsan re-located to Chicago from Minneapolis in 2008 and began to pursue her interest in music by singing backing vocals for musician Joe Pug. After being a back up vocalist for various musicians around the Chicago area for five years, Quinn decided to strike out on her own and release original material. Good Winter opens with "Sadie", an acoustic song that really showcases Tsan and her ability to perform. While the tune begins with just an acoustic guitar and her voice, it is soon rounded out by drums and an organ, adding a soft rock edge to the EP's minimalist sound.
The next tune is the EP's title track, and from the first listen, music fans will be reminded of Kimya Dawson of The Moldy Peaches, as Tsan's voice has an almost childlike sound, much like Dawson does. Accompanied by an acoustic guitar once again, Quinn's strained vocals give the song an emotional pull that is a first for Good Winter, and while the strings provide a darker and heavier feel to the track, they take away from the songs beauty and should have been left off of the track entirely. The EP's closing number "Love of a Painter" is a beautiful song that uses vocal overdubs to its advantage as we get a feel for the true depth of Quinn's vocals, which have a beautiful quality. Sounding like the song took influences from country music; the lyrics tell a great story and takes Tsan's music in a different direction, while still keeping with its preferred acoustic style.
Good Winter is a record that will never feel stale as its soft sound and Quinn's relatable songwriting makes for a successful debut EP.
You can purchase Good Winter at Quinn's Bandcamp page.