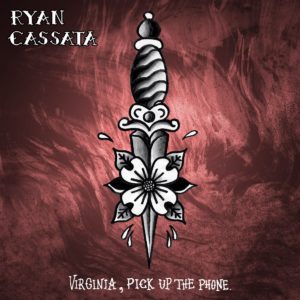 Transgender musician and activist Ryan Cassata has released a new acoustic EP titled Virginia, Pick Up the Phone, a collection of new songs plus an acoustic version of "Alcatraz," a tune on Cassatta's last full-length record Shine, released in 2016. After beginning his career at the age of 13 as not only a musician, but as an actor and activist for transgender rights, Cassata has once again proven his talents with the simplicity of his latest release.
Opening with "Oh, Girl," Cassata's folk inspired sound is reminiscent of older material by Missouri band Never Shout Never with their guitars and harmonicas setting a folk vibe, showing Cassata in a different light as his normal sound can pack a punch.
"Virginia, Pick Up the Phone" is a number that references a  girl named Virginia, named in songs such as "Alcatraz." A quiet acoustic number, "Virginia…" will quickly become a fan favorite and we wonder if Cassata will one day drop a full band version of the song.
Closing with an acoustic version of "Alcatraz" which made an appearance on Shine, the song is the best that Cassata has sounded since he started releasing music. With a guitar part that becomes stuck in your head as Cassata infectiously sings "la, la, la," everything about this version of the song works, giving fans a taste of Cassata's softer side, something that we hope he does more of on future releases.
While there is nothing earth shattering on Virginia, Pick Up the Phone, Cassata is going to have a lively career no matter which passion he pursues, though we hope that he never leaves music to far behind him.
Listen to "Alcatraz" below.