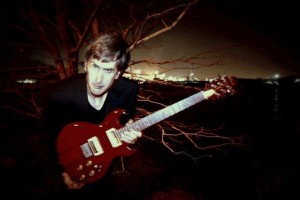 Canadian alternative musician Robert Nix has released his fifth effort Once in A Blue Moon, a quirky album that feels very distinctive while also being experimental. Wanting to appeal to the "intellectual music fan", Nix hits us with his interesting voice and a sound that may remind some listeners of Tom Waits, as Nix has crafted an album that certainly stands alone, though that should not discourage curious fans from taking a listen. Beginning his career in the 1980's in Toronto it's obvious after listening to Robert's latest work, that he has found inspiration for his music everywhere he goes, making for a brilliantly written album that makes for endless listening, while also expressing Nix's artistry.
Opening Blue Moon is "Won't Go with The Flow" a fitting introduction to Nix and his songs, as he plays around with different sounds to write a track that gives us an idea of what's going on inside of his mind when he is in a creative space. Producing something that is different and diverse, Nix succeeds in writing an album that will appeal to any music fan looking for something new that they've never come across before.
Handling everything from the production of the record to the performance on Blue Moon, Nix certainly demonstrates that he is a talented musician by wanting to be as creative as possible, which comes across well throughout the release. "Time To Make Up Your Mind" is an indie rock song that sounds a bit more mainstream as Nix's haunting guitar riffs make the track flow well, as the records only acoustic cut is certain to become etched into the minds of his audience.
"Real Time Drum Solo" is a two-minute-long number where Nix dives into the drums and takes his audience on a percussive ride that is deeply enjoyable, even for those who don't normally enjoy hearing the instrument on its own. Perfectly tuned, each drum feels large and perfectly hit, as Nix incorporates complex beats alongside double bass drums, with the track functioning as one long jam session that widens Nix's creativity on Blue Moon.
Lastly, "Can't Get to Sleep" may remind some listeners of the opening riff of the Metallica track "Enter Sandman" as the haunting notes gives the record a hint of darkness without completely alienating listeners. While Robert's music will not appeal to everyone, for fans that are looking for something unique to listen to, Robert does not disappoint as his songs change the pace and style of modern music as we know it today.
Take a listen to a selection from the album called "Won't Go With The Flow" below.