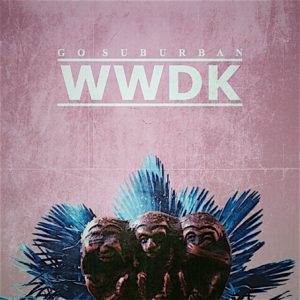 Releasing their debut album WWDK several months back, Provo Utah group Go Suburban is part of an era of upcoming bands in the Provo area, and with their experimental and unique sound, Go Suburban has the potential to play beyond Utah. Consisting of Brian Swanson on guitar, his son Jonas on lead guitar, Brian's brother Dave on drums, and old friend Nick Park on keyboards and bass, the band gels together well as one might hope since they've all known each other for so long. Being compared to Radiohead, the group certainly sounds like the British act, while still remaining distinctive.
Opening with "Reverse Culture," the song begins very ominously, as guitars and keyboards are messed with to create a haunting sound, which happens often throughout the record. With the older Swanson on lead vocals, he becomes the heart and soul of the band as he guides listeners through a very loose concept album focusing on living, life, growing up, and dealing with the loss of innocence and emerging adulthood.
"Empty Is the New Full" is a rock inspired track that features fuzzy guitars and great instrumentation from all of the band members. While each member is a different age, their musical abilities mesh well together, writing songs that are incredibly fluid, while sounding vivacious and methodically written.
"Broken Mirrors" is an acoustic song that gets into our hearts and moves us deeply. While different in overall feel, "Mirrors" brings another dimension to the group with the inclusion of the horns that perform quietly in the background, as not to take away from Swanson's voice and performance, as he is at the center of "Mirrors."
"Ashes to Ashes" which closes out WWDK, is the album's last acoustic heavy track that creates a beautiful simplicity to end the record. Writing a song that surrounds their audience, it's hard not to be immensely satisfied with what you hear on WWDK. After spinning the LP, we know that the group has enormous potential and the chops to go far.
Listen to opening track "Reverse Culture" below.