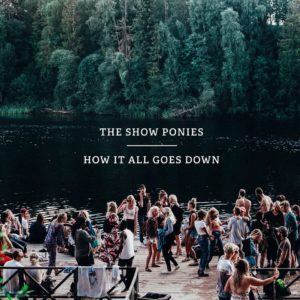 In Southern California, you don't normally hear country and bluegrass music, but The Show Ponies are out to change that. Formed in 2011, the latest band to hit the Southern California music scene sound like they should be from the American South. Releasing their EP Run for Your Life in 2014, the band has been exciting audiences with their refreshing take on bluegrass and folk music for the past five years, and they don't look like they will be stopping any time soon.  Releasing their full-length record today titled How It All Goes Down, the record includes 13 tracks that spark a fire in the hearts of their audience, perfect for anyone who is just getting acquainted with the band's music.
Opening with "The Time It Takes," the LP starts out strong with bassist Clayton Chaney leading the song and pulling in the audience with his enthusiasm for his instrument and his bands songs. Playing alongside Andi Carder on banjo and vocals, Goes Down is a good representation of The Show Ponies and their talent, with the rest of the group following close behind.
"Only Lie," is a gorgeous song that has a minimalist sound. With violinist Phillip Glenn coming in front and center on the track, we not only hear the groups skill but just how passionate they are about this new record and era in their history. When listening, you could tell that they took their time writing each song, as each number keeps you engaged and ready to hear what's coming next. "Sweetly" is an acoustic track that is the highlight of the album. As Carter croons about a lost love, we feel her emotions as an audience, and while these types of songs can run the risk of sounding sappy, it turns into a tune that stays with you after the record finishes.
The band leave us with the LP's title track, introducing an edgier feel while sprinkling in some inspirations from the country genre. While The Show Ponies are still a small-time group, this is an album that could appear on mainstream radio and do well. Closing with a strong ending, we can't wait to hear what happens to The Show Ponies when this album gets out to the world, as success could come quickly for this talented up and coming five-piece.
Listen to the opening track "The Time It Takes" below.
Featured photo: Daley Hake