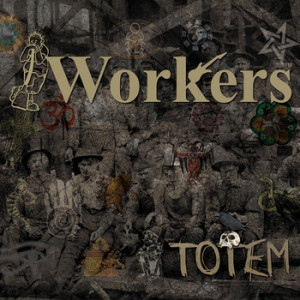 On their latest EP Totem, New York City studio band The Workers have released an exciting mini EP consisting of three songs. While the lineup changes with every release the band puts out, the group's only constant member Dan Greenwald is a talented musician who tries his best to make his music sound unique. On the EP's opening tune "Death Race" we hear a fuzzy pop song that sits beneath Dan's nasally voice that definitely brings Frank Zappa and The Talking Heads together, as they state on their Bandcamp page. Though the group's members are never consistent, the EP feels very whole and the indie inspired feel of Totem will be a hit among those who are looking for music with no frills.
Totem's second track "Boomerang" has hints of country as a pedal steel guitar is featured, though the rest of the song takes on a jazzy feel, as the switch in time signatures gives The Workers a different tone and vibe. The EP ends with "Big Time" and it is the song we have been waiting for throughout the release. On this song, we are finally getting some rock and roll edge on Totem, which gives the band a different angle that we haven't heard before. While the guitars certainly add some punch, the band still maintains its more subtle feel when it comes to playing with a harder edge. Despite their more laidback style, fans of the hard rock genre will still be able to enjoy the track without skipping over it, as it offers just enough punch to be engrossing.
For those indie fans that are looking for something new and entertaining they should look no further than The Workers as they have put out a great EP with Totem. We look forward to what they will come out with next and the revolving group of musicians that Greenwald will have playing alongside him.