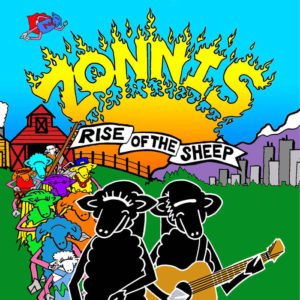 Formed in 2009, Zonnis are one of Canada's most melodic bands. Calling Victoria, BC home, this funky pop duo has toured all over Canada and into the coastal region of the United States. Rise of the Sheep is the group's debut album, which the band released after playing plenty of live shows around North America. With melodic melodies that dips at times into the Broadway genre, Zonnis are a perfect band to sit back and relax to, as the group grabs the listener and leaves them awash in sound, which is colorful and vivid throughout the entirety of their debut release.
Opening with "Too Little, Too Late," the song incorporates horns underneath the jazz inspired vocals of husband and wife team Andrea and Andrew Zonnis, making for a pleasing blend of music that speaks to their audience.
"Moonshine" is a bluegrass filled track that showcases the vocal abilities of both Andrea and Andrew. Veering away from the jazziness of "Too Little…, the track shows off the band's diverse sound and influences, which ranges from Mumford and Sons, John Prine, and The Sadies.
If you remember only one song from Rise of the Sheep, it will be "Party Boots," a spirited tune that makes you get up and dance, if the record hasn't already made you do this already. Increasing with vibrancy as the record continues, by the time we get to hear "Party Boots" Zonnis have already won our hearts.
Ending with "Home Is Where the Heart Is," Sheep also introduces country music into the mold, with Zonnis' delicate harmonies creating a vivacious album that should not be missed, particularly by fans who seek something that stands out when choosing music.
Listen to the records opening song "Too Little, Too Late" below.