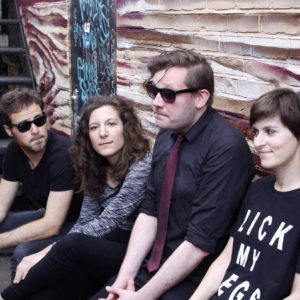 Useless Cities are an indie shoegaze band hailing from London who have recently released their debut EP Stay. Despite its short run time, the group has received much praise for their simple and beautiful tunes that leave a lasting impression on their audience. Called an "emerging artist" by Northern Ireland radio station Lisburn FM, the title sounds fitting, as the group know how to write engaging tracks that stir their listener's emotions. While the band has a long ladder to climb when finding success, Useless Cities display a confidence that makes us believe that they will get there eventually.
Opening with the releases title track, Useless Cities lay down the EP's solid foundation with a sharp rhythm section, using the music as its voice, rather than lyrics, which brings a different texture to the song, letting fans soak in the sound and feelings of Stay.
"Follow," Stays next track, feels a bit like Texas rock band Explosions in The Sky due to the songs atmospheric tone and sleepy vibe. With a bass line that once again drives the tune, each instrument on "Follow" builds on the others creating a cohesive feel within the song.
The radio friendly jam and closing number "To Be Ruined," employs a scattering piano with glimmering guitars and a thudding bass line. With relaxed vocals, it's hard to know where this song would fit on mainstream radio, but it has its place on  radio stations that cater to indie bands. With a jarring feeling about half way through, this is the first time on Stay where a song feels directly in your face as the guitars hardened edge brings the chorus to life.
While Useless Cities won't be for everyone, indie rock fans should check them out as they will be pleasantly surprised with what they hear.
Check out the song "To Be Ruined" below.