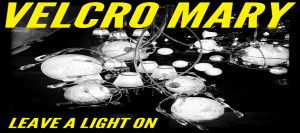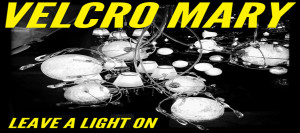 The new album Leave A Light On from solo musician Jason Erb, who goes by the band name Velcro Mary, is a snappy LP that is heavily influenced by bands who were popular in the 90's, and while that may seem like a lifetime ago to younger listeners, the record itself is a refreshing listen that will bring nostalgia to music fans who grew up during that era. The record begins with the opening track "Whatever Helps You Sleep At Night" which really highlights Erb's ability as a guitarist, while rounding out his intricate playing style with the talented musicians who play on his record. Sounding a bit like grunge act The Screaming Trees, the tune sounds like it would have been a successful hit during the 90's, due to its authentic grunge sound.
Next we have "Something In My Eye" which pulls away from Light's grunge aspirations and dives head on into punk rock, a genre that also suits the album's style. Playing a clean guitar riff with a hook that will get stuck in your head, "Something" is a highlight of the record, making it an album that you will want to spin over and over again.  "One And Done", is a colorful pop tune that is introduced towards the end of the release, and while most of the album has been focused on bringing back the music of decades past, this is a tune that sounds like it will work for current radio, due to its experimentation with the recent pop and indie styles we've heard in the last several years. More on the quieter side, "One and Done" will quickly become a favorite among Erb's audience, as they can relish in the sounds of the relaxed guitar and inclusion of a harmonica, which gives the song a folk twist.
"Seasons To Sleep" the last song on Leave A Light On, is the release's first true ballad, giving listeners a chance to hear every angle of Erb's songwriting and creative ideas. Beautifully composed, "Seasons" is a track to get lost in, and provides an escape for listeners looking for songs that take them away.
While Jason Erb may be on the lower end of the stardom scale, with Leave The Light On, he is on the path to finding not only new fans, but an audience that cares enough about his music to make him known throughout the rock and punk scenes.
You can listen to the record's title track below. You can also pre-order the record on Bandcamp. Leave The Light On will be out on November 6th.