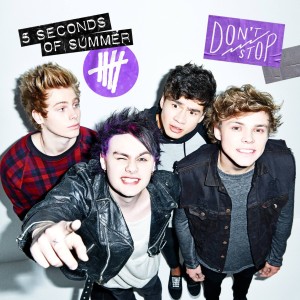 Australia's biggest band, 5 Seconds of Summer, have succeeded in churning out another killer EP, the Don't Stop EP, which will only make them bigger than they are currently are, which for a new band is never a bad thing. Getting their start in 2011, after members Luke Hemmings (guitar), Michael Clifford (guitar), and Calum Hood (bass) met in high school, they begin posting videos covering various hit songs on Youtube. Soon after, they added friend and drummer Ashton Irwin to the mix, and soon they were discovered by Louis Tomlinson of One Direction who invited the band to tour with them on their 2012 Take Me Home tour. The band has released several EP's; with their recent She Looks So Perfect EP outselling the Frozen soundtrack in sales. The band will release their self-titled full length album in the United States in July.
While 5 Seconds of Summer have been labeled the pop punk One Direction due to the bands rapid rise to fame, selling out headlining tours, and playing stadiums very early in their career, the Don't Stop EP proves that they are nothing like the British boy band. Instead of sounding like their pop rock influenced peers, 5 Seconds of Summer reintroduces the pop punk sound of the early 2000's, where they play songs that sound like their idols in All Time Low, Yellowcard, and Blink 182. While their young teenage fans have probably never heard of any of these bands (while also calling the group "punk rock"), the songs that 5 Seconds of Summer play are spritely and vibrant, while showing that they actually have skills on the instrumental front. The EP's opening song "Don't Stop" is their upcoming album's second single, coming after their smash hit "She Look So Perfect." While the songs opening riff suggest that the band has suddenly become more edgy with their new music, it glides into pop perfection, as the chorus where front man Luke Hemmings sings "Don't stop doin' what you're doin'/Every time you move to the beat/It gets harder for me/And you know it, know it, know it/Don't stop 'cause you know that I like it/Every time you walk in the room/You got all eyes on you/And you know it, know it, know it", is hard to get out of your head due to the songs indelible hook and Luke's bold voice. While his vocals aren't something to rave about, it serves the purpose of the bands chosen genre, where if you can carry a tune you are automatically labeled as a great singer.
"Rejects" the EP's second track, has a gritty riff that sounds similar to the guitar parts played by southern California punk band The Descendents, however the rest of the song has a very poppy feel, and while the band's music offers little hints of punk throughout each song, on Don't Stop the band barely embodies what punk started out as- raging, dirty, and very anti authority. Instead, 5 Seconds of Summer sound like young kids having a good time playing the music that they love. "Try Hard" is a reworking of an earlier version of the song which appeared online a few years ago in a less polished form. The song still has its trademark gang vocals, with the entire band singing "It's obvious/She's so out of reach, and I'm finding it hard/'Cause she makes me feel, makes me feel/Like I try, like I try, like I'm trying too hard," with this new version sounding older and much more balanced in its production. While the old version has provide long time fans with a big nostalgia hit, it is the new version of "Try Hard" that new fans will lean towards as the bands new songs have really cemented the bands style.
Lastly, "If You Don't Know" is a pop track that is a departure from the bands previous tunes. With the band singing carefree and echoey "oh's" throughout the song, it is the one number on the EP that has a different sound than all of the others. Sounding reminiscent of "Disconnected" off of the She Looks So Perfect EP, "If You Don't Know" suggests that the band would like to break away from writing pure pop punk tunes, which could serve them well in the future. As for the songs structure, the drums have a slight tribal feel to them, and Calum takes over some the vocals, and while sounding a bit more childlike than his band mate Luke, he is still able to carry a tune without faltering, and the band doesn't lose any of its likeability. Don't Stop is a fun EP that will delight pop punk fans, no matter if you've been a fan of the genre since the 2000's or if 5 Seconds of Summer has served as your gateway into the genre's happy and summery sound.