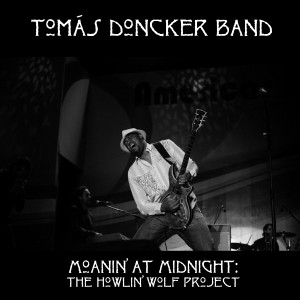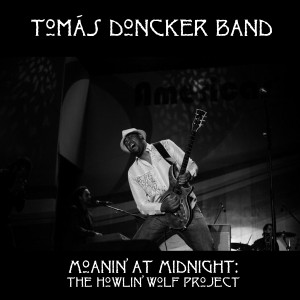 When one thinks of Howlin' Wolf, a blues singer who got his start in the 1940's, they think of a man with a tall and physically large frame, with a guttural and booming voice is that is trying to get emotions out that are buried deep inside of him. A product of a rough childhood full of poverty and abuse, Howlin' Wolf would let everything loose on stage, often times getting down on his hands and knees and howling like a wolf, often having a feral like appearance. Many of his songs such as "Spoonful" and "Smokestack Lightning'" would become blues staples, leading rock and roll bands such as The Rolling Stones to find influence in one of the blues most emotional vocalists. Howlin' Wolf's deep voice was an expression of his pain and almost no one can imitate him well, though the Tomas Doncker Band has changed all that with their new album Moanin' At Midnight: The Howlin' Wolfe Project. Covering ten Howlin' Wolf tracks; Tomas and his band fully embody Howlin' Wolf's music and stage persona on every song.
Tomas started his music career in New York City in the 1980's, after he began recording with such groups as James Chance and the Contortions, Defunkt, and J. Walter Negro and The Loose Jointz. He eventually moved up the musical ladder by touring in Japan and producing albums for artists such as Bootsie Collins and Yoko Ono. Clearly, Doncker has had a rich career and Moanin' At Midnight is the next step in continuing it. On his tribute to Howlin' Wolf, we hear Tomas and his band (who are some of the best musicians you have never heard of) really enfold Wolf and his soul bearing music and animated stage presence. The opening track "Evil" is a funky song where we begin to feel the heartbeat of the Tomas Doncker Band. The album features instruments such as an organ and harmonica, played by David Barnes (harmonica) and Nick Rolfe (keyboards,) which support Tomas and his wailing guitar, and we sense emotion in every note with Tomas beautifully demonstrating that he is one of the best guitarists to come around in recent years. Sounding much like guitar great Jimi Hendrix with his expressive playing style, Tomas really makes the guitar talk, along with trying to mimic Howlin' Wolf's guttural vocals, which sound similar to the Wolf himself. If anyone can ultimately succeed at pulling off a fantastic impersonation of the blues legend, Doncker nails it.
"Moanin' At Midnight", the album's famous title track, is another soulful tune that while it doesn't feel quite as gripping as "Evil", due to its less intense guitar part, it still has the spirit of the blues which never wanes. "Spoonful", another Howlin' Wolf staple, is tastefully done here, and if you listen to the track through headphones, you really get a sense of the vivacious that the Tomas Doncker Band are trying to illustrate through their playing. None of the instruments lack presence and without each of them the song wouldn't have the powerful feeling that it does. As the song surrounds you, we get lost in the music and that is exactly what Tomas Doncker achieves not only on "Spoonful" but on the entirety of Moanin'. No stone is left unturned when it comes to doing Howlin' Wolf justice, and Moanin' At Midnight is the perfect companion for anyone to listen to after they discover Howlin' Wolf and his contribution to blues music.