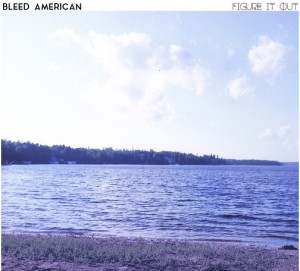 On their latest album Figure It Out, Canadian pop punk band Bleed American know exactly what they are doing when it comes to writing songs that stick in people's minds, as well as writing tunes that are enormously addicting. While the band released their self-titled EP early last year, Figure It Out is the first full length album from the group and for being their first effort, it already feels like the band has already found its permanent sound.
Figure It Out kicks off with "Sip" a short song that takes us back to the early days of pop punk as the band utilizes bright guitar riffs to write songs that are guitar driven, which is something that has become a rarity in today's music. "Bloom" is the album's next track, and its explosive appeal will convince pop punk critics that the genre was never dead in the first place, it just needed a band like Bleed American to bring it back to life.
The record continues with "Movie Theatre Theft" and while nearly every song on Figure It Out could do well as a single, the riff in "Movie's" opening has all of the makings of a hook that is memorable and dangerously dynamic. The album closes with "Life and Times" another track that is an instant hit straight out of the gate. The band has written another punchy tune that will get fans excited to see the band live as well as getting them excited for new music.
Figure It Out will burn bright in the minds of fans and anyone looking for music that has a vigorous and energetic vibe.