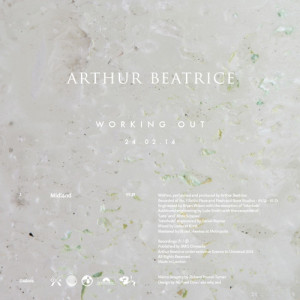 The debut album Working Out from British indie rock band Arthur Beatrice is an album that does not belong to one particular genre. While their music bridges pop and indie rock together, it is apparent that the band wants to extend their talents to create a style of their own. Forming in 2010, their existence has largely been shrouded in secrecy. Their first single named "Midland" was released by word of mouth in 2012, and through that unconventional publicity, word about the band's music has grown substantially. The Arthur Beatrice lineup includes Orlando Leopard taking over guitar, vocals, organ, and keyboards, Ella Girardot on vocals, keyboards, and organ, and brothers Elliott and Hamish Barns on bass and drums. The opening track "Councillar" opens with quiet organs and pianos, making way for a simple guitar riff that opens the song perfectly. While Orlando does not have the same vocal capacity of his band mate Ella, the rest of the band who takes over backing vocals, makes Orlando voice sound good, even when he sounds very average on his own. Songs like "Carter (Cut), showcase Ella's shimmering vocals, and is one of the best female vocalists that we've heard in a long time. Sounding a tad like K.D Lang with her wide vocal range, Ella's vocal chops gives the record a splash of color without sounding overdone.
"More Scraps", begins with a subtle drum beat and Ella singing against a delicate piano. Crafting a great pop song is something Arthur Beatrice does well, and after listening to "More Scraps" listeners will hope that the band never loses sight of the sound that makes them so great- a pop band that creates a musical style all their own and sticking to it throughout their career. Another thing that will surprise listeners the most is how the band has managed to stay virtually undiscovered until now, with only word of mouth promotion to help them grow.
The last track on the album titled "Ornament and Safeguard" is a quiet song that is a perfect ending to the album. While the album stays with the same time signature throughout, "Ornament.." picks up the timing slightly, with Orlando once again taking the reins vocally, with Ella making an appearance in the background. The big sweeping synths and harmonies round out the album beautifully. While fans will want Arthur Beatrice to stay their little secret forever, with Working Out, the group will expand even more, and word of mouth promotional tactics will only give way to more conventional methods as the band becomes more well known. Arthur Beatrice certainly deserves it.