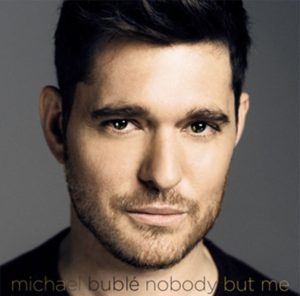 Michael Buble is a rarity in pop music. Bursting onto the scene in 2001 with his debut album Babalu, in a music industry filled with bubblegum pop, it was difficult to know how to market Buble's voice, but since then he has become one of the most recognizable singers in music. Releasing his last record To Be Loved in 2013, Buble revisits jazz, the genre that suits his voice best. Though this time on his new record Nobody But Me, we hear Buble straddling two styles, both pop and jazz, making for a stunning album that reaffirms his popularity.
Opening with the lead single "I Believe in You," the song had plenty of diehard fans worried that Buble was favoring pop music, and while it's true that his rich voice is more fitting in an older genre, it also can spread to other types of styles without issue. Perfect for adult radio, we hear an immediate hit in "I Believe in You," with Buble's vocals being convincing as he sings about having faith in a relationship.
The record's third song (and its title track) reminds of us of cuts that were featured on To Be Loved, while keeping a jazz flavor throughout. Along with Buble's voice, the percussion and piano carry the song with complete ease and it's one of the strongest selections from a musical standpoint.
"On An Evening in Roma (Scott'er Celo de Roma)," originally sung by Dean Martin, is a song that features Buble singing in both Italian and English. The song is appropriately fitting for the record as it adds to the spicy feel of the LP, along with Buble nodding to his duel Italian and Canadian citizenship. Tastefully done, fans will fall hard for the tracks magical feeling.
"The Very Thought of You" originally by sung by late vocalist Billie Holiday, shows Buble going back to his roots, while demonstrating the depth of his voice and what made him so popular in the first place. "Someday" is a ukulele heavy track that features vocalist Meghan Trainor and lyric writing from Harry Styles. While the song is pop in every way, it's one of the most beautiful tunes on the album.
Ever since Trainor released her debut Title last year, she has grown from a young unknown to someone who can hold her own among some of music's biggest stars. Carrying herself well singing alongside the more experienced Buble, the track is a gorgeous listen. The same could be said for Styles, who has proved that he is a strong songwriter who can write not only a story through song, but also stir up emotion through his words, earning him accolades outside of the boy band bubble.
Buble ends Nobody but Me with a cover of The Beach Boys tune "God Only Knows," that feels like it could be hard to pull off if not done right. Having the original in our heads, we aren't sure how Buble will manage this cover, even with his talent. With just a piano, strings, and his vocals, he gives a great performance, and is one of the better renditions of the song that has been released.
While many fans may be worried that Buble is losing what made him famous by singing pop orientated songs on his albums, the music on Nobody but Me speaks for itself. Impressive throughout, and with a voice that stands the time, Buble has demonstrated that he can conquer anything he sets out to do, while retaining the charm that he exudes through every note.
Listen to "I Believe In You" below.