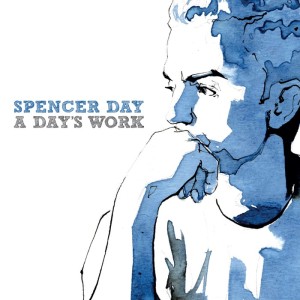 Spencer Day is one of the best undiscovered musicians you will hear this year. After hearing his latest EP A Day's Work, you won't want to stop listening to his soft crooning and tasteful jazz stylings that sound far beyond his years. Raised in Arizona, Day inherited his love of music from his mother who was a music teacher and singer. His mother's love of music was what encouraged Spencer to make music his career. Some of his inspirations include George Gershwin, Cole Porter, Paul Simon and Joni Mitchell, making for a diverse range of influences. He has released five albums including Introducing Spencer Day (2004), Movie of Your Life (2005), Vagabond (2009), The Mystery of You (2013), and Daybreak in 2014. From the opening notes of "Till You Come to Me", the EP's opening number; Day sounds like he is singing in another era, as the track opens with strings that will take listeners back in time. Sounding a bit like the kind of string accompaniment Buddy Holly would have used on many of his last songs, Spencer has written an EP that is pleasing to the ears, and for many older listeners, A Day's Work may stir up some nostalgia for the music of their youth.
"The Mystery of You" is the album's second track, and sounds like an old jazz tune with a modern twist. With its easygoing style, we really get a taste of Day's expressive and gorgeous voice. Still heavy on the strings, while featuring a light guitar, "The Mystery of You" is a song that sounds like Day will head down the same path as Michael Buble, as they both have bold voices and an inviting musical presence. "Better Way" is a song that lets Spencer's voice really support the tune, with his voice sitting at the very front of the mix. While Spencer adds in an organ to give the song a slight pop edge, the jazz angle is not lost on this tune. As a pianist, Day is incredibly gifted and after listening to A Day's Work, we hope that he sticks with the instrument throughout his live performances, as his piano skills really bring emotion to the song by giving it a happy and carefree vibe and playing anything else on stage might sound awkward, as he has firmly established himself as a great pianist. The addition of background vocalists on the track also gives the song a bit of extra spice, making the tune come alive. "These Boots Are Made For Walkin'" made famous by Nancy Sinatra, is a track where Day pays tribute to his musical ancestors and how their music has shaped his songs. He sings like he's a seasoned jazz musician, and his natural charisma and presence really make this collection of songs highly enjoyable.
The EP's closing track "Missing You Tonight" has a more poppy feel to it, and really makes use of his modern influences, as the horns and strings are largely absent from this tune. While Spencer experiments with several genres throughout the record, there is never a moment throughout A Day's Work where it sounds like Day is spreading himself to thin, as his experimentation is just enough to keep him and the listener satisfied throughout the entire EP. Spencer Day is a charming musician from start to finish, as his songs will keep you wanting to hear more, and after hearing his latest effort, new music cannot come fast enough.