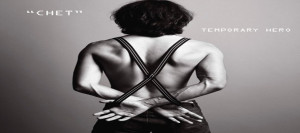 Maine jazz pop act Temporary Hero, fronted by solo musician Jonah Bell, has released his new album Chet, a very surprising and entertaining solo album dedicated to keeping alive the legacy of jazz musician Chet Baker. Starting out his career producing records more fit for a dance club than a jazz venue, this is not the first time that Bell has thrown a career curveball. Wanting to expand his musical horizons, he has recorded two other tribute albums which focus on Frank Sinatra and Bing Crosby, both of which are scheduled for a release in the coming year.
Wanting to shy away from making the music its main centerpiece, Bell's primary concern on Chet is the vocals, with other instruments rounding out its sound to give the record a rich and warm feel. Opening with the track "My Buddy", we hear scattering finger snaps that gives off a jazzy atmosphere, setting the mood for the rest of the album. Sounding very much like a barbershop quartet due to the overdubs of Jonah's smooth vocals, Chet is certainly one of the most engaging and well done tribute LP's we've heard from anyone in a long time.
"Look For The Silver Lining" comes in towards the middle of the release, and Bell's interpretation of Baker's songs which now sway more towards pop keeps us mesmerized, even though we still don't know exactly where he is going next, as each track introduces his audience to a different vibe while still keeping with Baker's distinctive style.
To end Chet, Bell includes the jazz standard "My Funny Valentine", made famous by such vocalists as Billie Holiday and Ella Fitzgerald. On this particular cover, Bell nails the legendary track with his unassuming voice, as he quietly convinces us that he will do well when attempting to cover any artists that he wishes to, as he has the versatility to cover a wide range of musicians. In this case, Chet ends up working well, and there is no doubt that Bell's latest effort will be well received by his fans.
You can listen to Chet below.