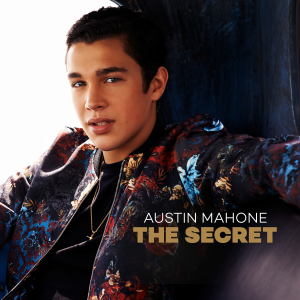 Austin Mahone's debut album The Secret is an okay album, with only two good songs which allow Austin to show his talent. With Austin recently turning eighteen in April, it's too bad that he is not releasing a slightly more mature effort than what we hear on The Secret. In many ways, the album embodies what Justin Bieber started with his My World albums in 2009 and 2010, with both singers having short albums with lyrics that will appeal to teenage girls, and catchy music that won't appeal to anyone beyond that age group, except for a few tracks at the end, where he may gain some older fans. While Justin Bieber released his first two albums before his voice broke, Austin thankfully has stayed away from this trap of not being taken seriously due to his vocal range. Born and raised in San Antonio, Texas, Mahone rose to fame when he began uploading Youtube videos with his friend Alex Canstancio in 2010. His first single "11:11" was released in 2012, and his first EP titled Extended Play was released in 2013.
The album's first track "Till I Find You", a catchy tune about finding the perfect girl, is slickly produced and would likely do well as a single, since its sirens, punchy beat, and smooth vocals is the perfect concoction for a killer pop song. The lyrics to the song are innocent to the point of being cheesy, and hopefully next time we will hear Austin digging a little deeper when singing about relationships. "Mmm Yeah" The Secret's lead single, features Florida rapper Pitbull, and his appearance gives the track a little extra spice, though the song is ultimately a bad choice for a single. The track functions as a perfect song for a pool party when the sun is shining bright, but once September hits, everyone will forget about "Mmm Yeah" since its appeal is to flimsy to extend beyond being a summer jam.
"All I Ever Need" is an R&B influenced track that shows Austin's vocals in a favorable light. Gone are the bass heavy beats and we get to hear Austin's voice backed by subtle music. "All I Ever Need" shows the path that Mahone's music can possibly go as he grows as a vocalist. While the lyrics are still bordering on being shallow, Mahone can actually sing and he does it well. The albums last song "Shadow" gives us another chance to hear Austin's voice when he strips down his music with an acoustic guitar. Perhaps this is what Austin should stick to doing, because once again his voice stands out against the guitar, the songs only instrument. Perfect for the moms who are dragging their daughters to a Mahone concert, the song is enjoyable for anyone regardless of their age. While adults won't become "Mahomies" (Austin's name for his fan base) any time soon, there are a few tracks on The Secret that may convince them that Austin Mahone is better than his predecessor Justin Bieber, and there is hope that Austin won't fall to the pressures of fame like his Canadian clone.