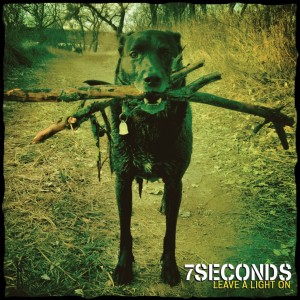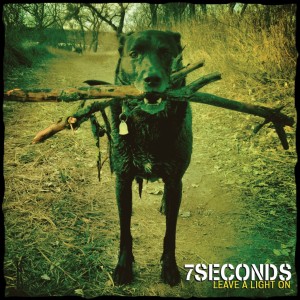 7 Seconds latest record Leave A Light On is the band's first album in eight years, since the release of Take It Back, Take It On, Take It Over! in 2005. Even though the band been dormant for nearly a decade, Leave A Light On sounds like they never left. Formed in Reno, Nevada on January 17th, 1980 by two sets of brothers Kevin Seconds (guitar and vocals), Steven Youth (bass), Tom Munist (drums) and Dim Menace (vocals), the band have released three demos, six EP's, appeared on thirteen compilations and released sixteen albums to date. Anyone who is looking for a good introduction to hardcore punk should look no further than 7 Seconds since they encapsulate everything that is great about punk music, which includes raging guitars, tight basslines, and brutal drum beats.
The albums opening song "Exceptional" is a fast hardcore punk song where we hear Kevin shouting the lyrics while the band races to keep up. Punk music, which is usually sloppy sounding at best, is well done here. While the band can be categorized as speed demons, they play in time with each other and nothing sounds rushed. While 7 Seconds has served as a gateway to discovering punk for many bands, the band can also do the same thing for the groups coming up today, as the music does not sound stale. "30 Years (And Still Going Wrong)" is a tribute to the bands long history, and judging from the song's lyrics the members proud of their accomplishment. Even if the band hadn't made it this far, the band proclaims that they would still be playing music, simply because they love it and their passion for music comes through wonderfully on Leave A Light On.
"Leave A Light On" the album's title track is one of the records longest songs ending at just over three minutes. One of the slower and somewhat more melodic tracks, "Leave A Light On" is a nice breather from the speed of the previous songs, while demonstrating that 7 Seconds can be softer around the edges. "My Aim Is You" gets back to the bands signature sound, and the chorus of gang vocals from everyone in the band is easy to sing along with and will easily become a fan favorite at the group's shows. "Standing By Yourself" has more of a rock feel and it goes back to a slightly slower sound. The guitar riffs in the song are catchy and memorable is reminiscent of another punk band No Use For A Name, who also were able to write slower tracks on their album showing their musical diversity.
Leave A Light On's last track is "Simple Or Absolute", which packs in enough punch to end the record with a bang. Throughout the record we hear a band that has tried their hardest to stick to their punk roots while branching out slightly to release more melodic songs that work in the bands favor. While the band is going on over thirty years strong, 7 Seconds isn't going anywhere any time soon.