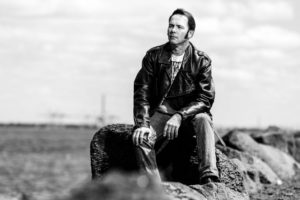 With a day job as a steel worker, Melbourne, Australia musician Ivan Beecroft brings a unique flavor to his music. At times sounding very rock and roll, while moving towards feeling sweet and serene, Beecraft knows how to write a record that moves his audience. Appalled by the unsafe conditions at his workplace, Beecroft speaks honestly about the hard times he has fallen on, while trying to earn a living in an industry that is dying, in addition to also contributing to an industry that is rapidly changing.
On his latest record Dirt Lie, Beecroft shows a softer and more delicate side to his songwriting development, though he throws in plenty of smartly done heavy tracks that leaves an impression on his audience.
Opening with the heavy hitter "Amnesia," Beecroft's music hits you with an impactful punch and with his gravelly voice, we feel like we are listening to a rebirth of British punk act The Clash, as we hear chunky guitars and drums that drive the beat. "Angel" is another hard-hitting song that not only illustrates Beecroft's internal rage, but also his untapped potential to be a true professional musician. The track not only shows Beecroft's lyrical prowess, but also his ability to be an excellent guitarist.
Numbers such as "Summer Serenade" highlights a softer tone, while offsetting Beecroft's edgy tunes, and while his vocal tone isn't beautiful, it's the passion that counts. While "Summer Serenade" lightens the emotional load that his audience feels when listening, the harder, grinding tracks are what he excels at.
"You," the record's closing song brings a pop feel to the record which has managed to make its way in at the very last minute. Sounding like a few of The Clashes lighter cuts, "You" is a song that sticks with fans until it finishes, as well as the rest of the tunes on Dirt Lie.
Listen to "Amnesia" below.