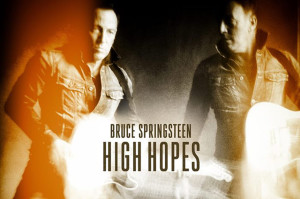 In 1975 Bruce Springsteen released his third album Born To Run, which would end up being one of his most successful albums and the world's introduction to "The Boss." The album was Springsteen's last shot at playing music for a living, even though he had previously released two albums that received critical acclaim, but saw little success commercially. Springsteen was born in New Jersey, and became inspired to pick up a guitar after he saw Elvis Presley on the Ed Sullivan show. Throughout his teens and twenties he played in numerous bands, eventually finding success at the age of 26 with Born To Run. With a career that spans nearly forty years, fans have enjoyed 17 albums from Springsteen, though his latest record High Hopes does not match the album's title, or any possible anticipation that fans have about Bruce and his latest material.  High Hopes is a poor attempt at new material, as the album is made up of redos of Springsteen's previous songs, studio versions of live songs, and some cover tunes. While that alone will not turn hardcore supporters off, the more fair weathered Springsteen fan will be disappointed, as there are no songs on the record that offer any hit making hooks that casual listeners will enjoy.
Songs like "High Hopes" shows why hardcore fans and casual fans will be divided on their opinions. Musically the song is colorful, featuring an upbeat horn section and the talents of the E Street Band, who Springsteen has been performing with for most of his career. Bruce's guitar licks aren't bad either, and they bring back memories of The River, one of Bruce Springsteen's early albums where Bruce was at his best. Long time fans will sing along as they get new versions of some old favorites. For his critics, the album sounds like it is trying to be a cash cow that will keep Bruce financially steady. The biggest component of this opening track that brings the album down is the vocals. Never a great vocalist, Bruce's voice was tolerable in his earlier years, but now he sounds old, tired, and creatively dry.
Songs like "American Skin (41 Shots)" was written on Springsteen's 1999 tour, and has been performed live on various occasions since then. The studio version sounds like Bruce's current sound, and drags on until you don't want to listen anymore. The only stand out track on High Hopes is "The Ghost of Old Tom Joad." Originally written as a soft folk ballad, Bruce had completely revamped its sound to show the creative scale that Bruce has demonstrated throughout his career. Sounding like he was on an creative streak, the new version of "Tom Joad" is inviting, and for one moment on High Hopes, it feels like Bruce is invigorated with new energy, even though it is only for seven minutes. Tom Morello, the guitarist of Audioslave, makes an appearance on the song, and while Morello gives Bruce and his latest material a hint of relevance, it is unfortunate that Springsteen had to feature someone else's guitar playing in order to still sound young. If you have been on the Springsteen train for the last 40 years, you will not be disappointed, however if you are just discovering Springsteen now, you will turn off your iPod sooner than you thought.