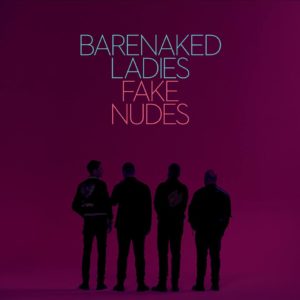 Releasing their 12th album this past Friday titled Fake Nudes, Canada rock band Barenaked Ladies remain a colorful act that die hard fans will continue their devotion to. While they have a long history, nothing much has changed, as they are still playing the same fun music that fans fell in love with on their 1994 debut Gordon, leading them to amass thousands of fans that brought them cult like status.
On the opening track "Canada Dry," the quartet possesses the same sing along vocals that we've heard for years, making the track an appealing listen. If this is your first introduction to the Barenaked Ladies, Fake Nudes is a great place to start. The cheery song "Lookin' Up" is the LP's third tune, and its fun and bouncy feel is one that longtime listeners are familiar with. Sounding like it needs to find its place in a commercial or other form of advertising, "Lookin' Up" has a cartoonish like style that is hard to shake. Hopefully this song will find a home in the bands live set.
"Navigate," the LP's seventh track hints more at the groups rap and electronic leanings, while interspersing their acoustic beginnings. Ed Robertson, the group's front man and one of the last original members, sounds confident and fresh on "Navigate." If he is a new voice coming through your speakers, you'll be surprised how fantastic he sounds with 12 records under his belt.
Closing with the acoustic and beautiful sounding "Township of King" this really is the highlight of Fake Nudes and fans may wonder why the group decided to stick this gorgeous song at the very end of the record. While it's a great album closer, it stands out as a song that not only has brilliant, vocals, guitars, and strings, but it also has the kind of sound that can break up the more up-tempo songs the Barenaked Ladies are best known for.
While recording 12 albums is no easy feat and something most bands never achieve, the relevance of the Barenaked Ladies remains as bright as ever, and while they may be best remembered as a band of the 90's, their music is as listenable today as it was back in 1994.
Listen to "Lookin' Up" below.