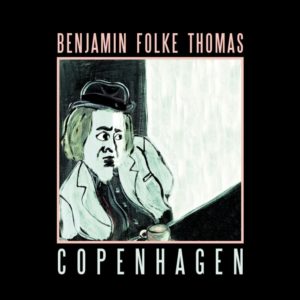 Turning to folk music after watching Kurt Cobain perform "In the Pines" live during Nirvana's MTV Unplugged set, Swedish musician Benjamin Folke Thomas was set on the right path for his musical journey. Releasing his new album Copenhagen today, Thomas has given fans ten great songs that are not only autobiographical, but full of great stories, no matter if they are his or someone else's.
Opening with "Good Enough for Me," Thomas employs a simple set up for this record – guitar, drums, and bass – the perfect combination to create a moving and lush backdrop for his mostly biographical work. "Safe and Secure" shows off Thomas' light but effective vocal ability. Not to powerful but not overwhelming, it is his voice that carries the songs greatness. On "Bad News" Thomas brings in a scattered drum beat that presents a different feel then what we've heard before, and while this gives the song a tasteful feeling, it drowns out the rest of the instruments by being the most dominant.
Diving into soft rock and roll, Thomas effortlessly ties together all the different experimentations on the LP for the track "Hold On." While Thomas has stuck by his acoustic guitar before this, this time he plugs in and creates intricate and electrifying riffs, dressing up the song when it sounds like it needs something more. Lastly, we have "Gimme A Smile," a folk-y track that is a beautiful end to Copenhagen. Full of stories that will remind listeners of folk greats such as the late Leonard Cohen, Ben Thomas has a plan in place for his music, and we hope he realizes his goals sooner than later.
Listen to the song "Copenhagen 30/6" below.