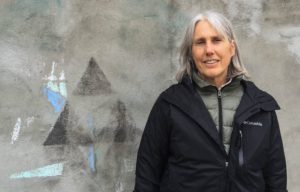 Iowa acoustic musician Julie Hampton who performs under the name Electra Day, has released her new record Quiet Hours, an entirely acoustic release that takes inspiration from the life that Hampton has led – taking her from Berlin, Germany to the Mojave Desert in the southwestern United States. Drawing comparisons to the late Leonard Cohen and the legendary Bob Dylan, Electra Day paints descriptive images within her songs to form a picture for the listener to connect with on a personal level.
Opening with "Big Sky," Electra Day takes us on a relaxing journey through her soul and memories as we let the images of a blue sky unfold in our minds, creating a raw feel that flows throughout the album. Tracks such as "From Boulder to Oblivia" is a six-minute song that reminds us of the many great songwriters that have come before Electra Day such as Joni Mitchell, who she can also be compared to. Wanting to reflect the landscapes of the places she has traveled to; Electra Day has done a brilliant job at pulling in her audience with her quiet and powerful collection of songs, while making her audience feel like they are going on a musical and visual ride.
On the songwriting front, Hampton plays guitar well, particularly for someone who learned the instrument as an adult and for someone who picked up songwriting originally as a hobby, serving as the next step in writing poetry. To close out Quiet Hours, Electra Day leaves her listeners with "Old Blind Couple," a beautiful number that tells a rich and layered story of a longtime relationship.
The first in a two-part collection of music, Quiet Days is a beautiful batch of songs that make you want to continue to listen to Electra Day as she grows and develops as an artist. And as she keeps writing music, we want to continue exploring the world with her for a long time to come.
Listen to the opening track "Big Sky" below.