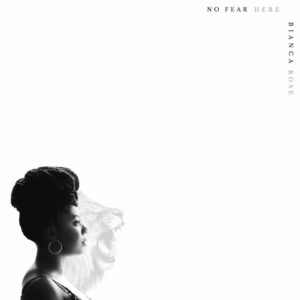 Releasing her debut EP Truth and Tiny Tragedies in 2007, British singer-songwriter Bianca Rose has spent the last few years writing songs for other musicians, including tracks for X-Factor participant Anastasia Baker. Wanting to get into focusing on her own songs, Rose has released her new record No Fear Here, featuring cellist Ayanna Witter-Johnson on the track "Because of Love."
Speaking about art, heartbreak, and what truly makes you happy, Rose opens the record with the song "No Fear Here Part One" which is one-minute long intro that highlights her wispy voice that holds plenty of promise for the rest of the release. Songs such as "Wall Paper Painting" brings more of a jazzy influence to the already pop and folk tinged album. With a gorgeous horn section and light acoustic guitars playing on top of Rose's seductive voice, the track is one of the more surprising tunes on the record, considering how it started off.
Immediately following this track, we have a one-minute long spoken word track titled "No Fear Here (Carina's Story,") which talks about being a motivational speaker and mother and being completely content with playing these roles, and how sometimes being happy is truly enough. An interesting track to include, we feel the heart and soul of not only Rose, but her friends and confidents as well.
With the last full closing track titled "Your Beautiful," Rose gives her audience one last chance to hear her one of a kind vocal ability which is highly enjoyable and sure to go far within the music industry. Ending with "No Fear Here Part Two," the song talks about going through life without any fear, which after listening to No Fear Here, tells her audience that Rose has a good idea of where she wants to go on whatever path her career takes her.
Listen to the song "Wall Paper Painting" below.