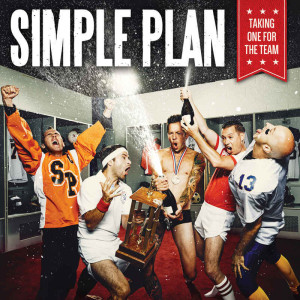 For two decades, Canadian pop punk band Simple Plan have released reliable albums that their diehard fans eat up, while leaving their critics still  scratching their heads as they wonder how the group managed to stick around for so long. Since their 2002 debut No Pads, No Helmets…Just Balls, Simple Plan have released comfortable and reliable albums that stick to what they know, which is good pop punk tunes that leave plenty of room for sing alongs and energizing guitar riffs that bring solace to teenage outcasts and young people who have felt alone.
While the band veer slightly from their predictable sound by channeling Maroon 5 and reggae, along with bringing in several guests vocalists, the band's new release Taking One For The Team still leaves fans satisfied that Simple Plan have released another great album.
Opening Team is "Opinion Overload" an energetic track that starts off the record on a high note familiarizing fans to Simple Plan and their predictable style, while welcoming newcomers into the fold and enticing them to stick around for a long time.
Tracks such as "Farewell" incorporate a slower time signature to discuss a teenage relationship breaking apart, with front man Pierre Bouvier's voice being a highlight of the track, while New Found Glory front man Jordan Pundik takes over vocal duties for two verses, making early 2000's music fans nostalgic that two of pop punk's best front men are back and doing what they do best.
Next, Simple Plan experiment with the bass heavy song "I Don't Wanna Go To Bed" featuring Nelly who raps on several verses throughout the track. While "I Don't Wanna Go To Bed" is probably the most diverse tune the group have released to date, the band does not seem to feel out of place or uncomfortable with experimenting with another sound, and while they have never been one to truly push the limits with their music, having this trial run come at this point in the career says a lot about how far Simple Plan have come as far as creativity is concerned, as they are only focused on what their fans think and not of the opinions of their critics.
The band closes out Taking One For The Team with a song titled "I Dream About You" featuring Juliet Simms of the defunct band Automatic Loveletter. Beautifully written, the song features a string arrangement, something that rarely makes an appearance on Simple Plan albums, but when it does, it adds a beauty and emotional pull that is hard to find on other releases in their genre. "Dream" feels like it wraps up the LP nicely, making Taking One For The Team a solid record that pop punk fans should not miss, while leaving Simple Plan's fans content with the fact that the band still haven't missed a beat.
Watch the music video for "Opinion Overload" below.