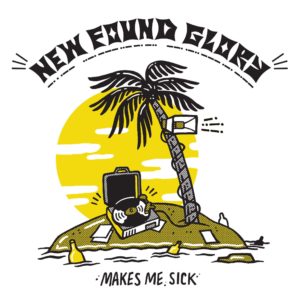 Currently in the middle of their 20 Years of Pop Punk tour, Florida band New Found Glory has released their ninth record Makes Me Sick, an album that provides fans with their typical infectious style, while still trying out a few small experiments along the way. Kicking off with "Your Jokes Aren't Funny," it's clear that the group has grown up as the members hit their mid-30's. Even though the band has recognized their mental maturity, thankfully they still know that the music they have been playing for 20 years still resonates deeply with fans.
"Happy Being Miserable," the LP's lead single isn't one of the records more memorable songs, and they could have chosen a track with a bit more edge, as they have done on previous albums when introducing new LP's to fans. While this song is not one of their best, the rest of Makes Me Sick makes up for this hiccup, leaving their audience with hope that the remainder of the record packs the biting punch that New Found Glory is known for.
"The Sound of Two Voices" introduces the familiar New Found Glory summer flavor of bouncy sounds and ADD style energy. Rounded out with a Caribbean flavor, using calypso drums and other reggae influenced sounds to bring fans a burst of experimentation on the record, makes it one of the more solid tunes the now four-piece has dropped. While it's unlikely that New Found Glory are ready to stop their well-oiled pop punk machine, it's refreshing to hear that their original sound continues to work for them.
Closing out Makes Me Sick, New Found Glory leaves their audience with "The Cheapest Thrill," a catchy tune which starts off with a prominent bass line and punchy drum beat from bassist Ian Grushka and drummer Cyrus Bolooki, two of the best musicians in the pop punk genre.
Also filled with catchy riffs from guitarist Chad Gilbert, every song on Makes Me Sick feels like home, and with another record that cements New Found Glory's place in the pop punk genre, fans realize once again that they are fantastic at what they do, reviving pop punk one record at a time.
Listen to "The Sound of Two Voices" below.