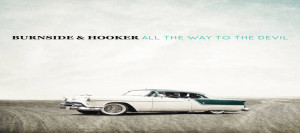 All The Way To The Devil by Chicago Americana band Burnside & Hooker will be one of the most eclectic albums you will hear this year, as the group introduces listeners to their take on the Americana genre, sprinkled with pop, rock, and country music that gives the band its own identity. While the group was only formed two years ago, they are just now releasing their second record, though it feels like they are just getting started on the road to success.
The record opens up with the album's title track as an intro, with the band harmonizing over rhythmic handclaps that sets up All The Way… and it's down home vibe. "The Graveyard" which follows "All The Way…" digs deep into the bands country roots, as guitarist Michael Vogus plays a haunting guitar line, while singer Rachel Bonacquisti sings with enough soul to be comparable to Janis Joplin. With backing vocals from the rest of the group, we get a very Southern vibe that makes the track sound very honest. Bearing their scars, the group gets their emotions across well, making their songs feel very captivating.
"7 Day Reel" is up next with the band gliding into pop territory, giving fans some variety, though it is not without a reminder of where the band has been with their music, as violist Diana Mayne plays a country style riff while setting up the bands laid back personality, as they play a tune that includes bursts of pop. Bonacquisti sings with a smoky vocal tune that blankets the song and gives it a polished feel, making the track one of the record's strongest selections.
Lastly, "Goodbye, Louisiana," All The Way's… closing track is a country tune filled with a dash of folk, that features stomps reminiscent of The Lumineers and group vocals that sound harmonious, with an acoustic guitar rounding out the song. The tracks subtle catchiness works well, as it flows well enough to be memorable, while not feeling like the song is being stripped of authentic musical talent.
Burnside & Hooker have released a well done record that will go over well with both Americana and country fans and for everyone else, the release holds a big enough dose of variety to keep the audience satisfied, and after listening we feel like the road out of Chicago will not be long.