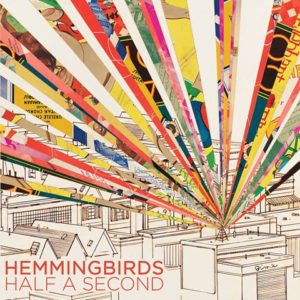 Chicago rock band Hemmingbirds have released their new EP Half A Second, which is full of great and well written pop songs that introduces the band to the world, while letting music fans fall in love with their solid musical abilities and honest lyrics. Formed in 2010 after front man and guitarist Yoo Soo Kim began coming up with ideas for new songs, he realized he needed more musicians to flesh out his ideas, so he recruited guitarist Timothy Cap, drummer Zach Benkowski, and bassist Matt McGuire to form a full band which resulted in the Hemmingbirds, a name that is inspired by Ernest Hemingway and the group Fleet Foxes. The band released their debut album Death Wave in 2010 and their sophomore effort The Vines of Age in 2012.
Kicking off their latest release is the EP's title track which gives us a good sense of what the band can do as a group, along with demonstrating how creative they can be within a three-minute time span. Writing colorful and addicting pop rock music is what the group do best as they leave their audience with exactly what they want to hear.
"Stay" is a solid song that would be a good choice for a single, as its pop stylings burst with color as well as including a soaring chorus with You Soo Kim singing "I want you to stay" loud and clear, with a catchiness that pulls the audience in immediately and demonstrates the band's charm as well as their energizing take on music.
To close Half A Second, the band chooses a tune called "Lover, You're Out There," a piano ballad with beautiful vocals from Kim, giving Half A Second a different spin from the EP's previous cuts.
For a band that is still getting their name out there, Hemmingbirds have written quality songs that shine brightly against their competition in Chicago's rich music scene, leading them to gain a devoted fan base that never fails to waver in their loyalty.
Take a listen to Half A Second's title track below.