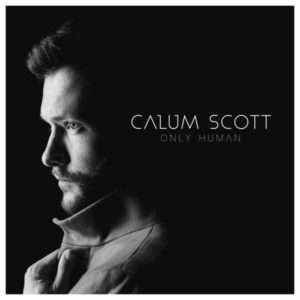 After listening to his gorgeous cover of the Robyn song "Dancing On My Own," stripped down to a piano and played at a much slower time signature, it becomes clear that Hull, England vocalist Calum Scott is making waves not only for his obvious artistry, but for his debut album Only Human. Rising to fame after auditioning for Britain's Got Talent in 2015, singing "Dancing On My Own", judge Simon Cowell famously gave him in the golden buzzer, allowing him to bypass other levels of the audition process and proceed straight to live semi-finals, regardless of the opinions of the other judges seated with him.
While Only Human is comprised mostly of slower tempo ballads, it remains captivating mostly due to Scott's voice, one of the most beautiful voices to come out of the UK in the last few years. Opening with "If Our Love Is Wrong," Scott pulls us in to his music with the same endearment and mezmerization he gave to the audience on Britain's Got Talent. Going heavy on the pop influences, the LP doesn't have the squeaky-clean feel of a brand new pop artist, instead the record makes it seem like Scott has years of experience.
Carving his own musical identity feels crucial for Scott's success since he has a such a unique voice that can stand the test of time, and while "Dancing on My Own" made Scott's mark by becoming a huge hit, Only Human expands on his dreamy style of music, while hopefully making him a permanent fixture in the pop world.  Tracks such as "You Are The Reason," is another sleeper hit, and while it doesn't have the snappy vibe of other songs on the record, its one that fans and more casual listeners will fall instantly in love with, proving that Scott has a quietly fierce vocal ability. While he doesn't belt out the words to his songs, he brings enough emotion to his music to make you shed a few tears, with "Reason" being one of these numbers.
Tracks such as "Only You" has Scott bringing back childhood memories of being bullied, talking about having scars, while rising above adversity. Another beautiful song, it has hints of R&B and makes use of a choir, something that Scott's vocals sounds gorgeous against.
To close Only Human, Scott includes a Tiesto remix of "Dancing On My Own," a bright and catchy remix of one of the better covers to come out in a long time. While this could be considered a reprise, Tiesto is an expert at making the song bright and colorful without losing the emotion that makes the tune such an appealing and memorable listen. While Only Human is only his first go at being a professional singer, Scott has everything going for him and more. We can't wait to see where his musical journey goes.
Stream "Dancing On My Own" below.
Featured photo: Alex Petch