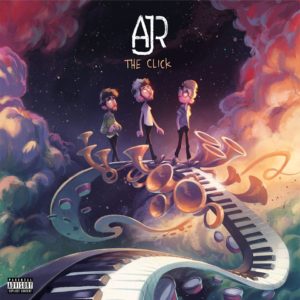 After releasing their debut single "I'm Ready" in 2013, New York City sibling trio AJR (Andrew, Jack, and Ryan Met) has released their second full-length album The Click. The band released their debut record Living Room in 2013.  Writing and recording music in their Chelsea area apartment, the band has become an international sensation for their eclectic indie pop music. First generating buzz for The Click with the singles "I'm Not Famous" and "Weak," the brothers are back with fun pop songs that are a colorful addition to anyone's record collection.
Opening with "Overture," a mashup of all the album's tracks, it's a good overview of what the record will sound like, and while it's not entirely a waste of space, fans may wonder why the group decided to put this as the record's opening song. "Sober Up" featuring an appearance by Weezer front man Rivers Cuomo, the group's harmonies and creativity makes the song a worthwhile listen. While no one brother sticks out vocally, hearing them all sing together is what makes their music so catchy, as they come up with quirky sounds and beats to stand out from the rest of the groups in their genre.
"No Grass Today" is about the 20-something pastime of smoking weed, and though the subject may seem stupid to the older crowd listening to The Click, somehow the idea comes out as vivacious and fun over the course of the song, making AJR's music appealing. "Three-Thirty" is where things get a bit more unusual, introducing the brothers hip hop and dubstep influences. Using a variety of samples courtesy of Jack, "Three-Thirty" will be a perfect number to include in the groups upcoming festival run, which includes an appearance by Austin City Limits in Austin, Texas in October.
"I'm Not Famous" is perhaps The Click's most memorable number. Singing about not being famous despite the brothers ongoing recognition for their music, it has a funky beat and jazz influenced piano line, wrapped up with a chorus that sticks with their listeners. While we aren't quite sure if AJR will become any bigger than they are already are, it's nice to know that they have managed to keep themselves grounded throughout their rise.
To close out The Click, AJR has chosen "Come Hang Out" as the end to their first full length record. With a groovy drum beat that envelopes the listener and a chorus that we want to sing along to, "Come Hang Out" is an exercise in creativity. With Adam producing music not only for his own band but artists such as Andy Grammar, we are sure that his producing instincts and skill have played a role in what he wants his own records to sound like, giving them a unique sound that one is not likely to forget any time soon.
When the band hits the road throughout the summer and fall, AJR will be exciting current fans and making new ones, as they continue to introduce their music to anyone who wants to listen.
Watch the music video for "I'm Not Famous" below.