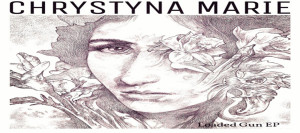 Canadian singer and actress Chrystyna Marie is gearing up to release her new EP Loaded Gun, a dreary blues release that needs a bit of work, despite Chrystyna's smoky and thick vocals that are the highlight of the record. After many years of being represented as a solo artist for several labels and singing back up for different artists, Marie has since decided that she should take a risk and write music on her own, allowing her to compose the songs that she has always wanted to write.
Opening with the EP's title track, the song itself is a strong choice to kick off the record, and we love the jazz vibe that the release gives off, with Chrystyna's lovely voice shining on the track. "Down The Road" the records next song is another slow and breezy blues number, and while it does an excellent job at introducing Chrystyna's voice to her audience, as it demonstrates her range, adding another slow tune to the records track listing makes for a boring EP, as it feels like she is limiting herself due to only performing slow songs, possibly making her fans lose their enthusiasm for her music.
Closing song "Tower" is a beautiful song that would sound great if it had a faster time signature, which could somewhat alleviate the bland feeling that we have about the record, though we still feel disinterested when listening. While Chrystyna Marie shows much promise with her voice, while also getting a fresh start musically, Loaded Gun ultimately falls flat due to the record not having enough variation to be memorable or lasting.
You can hear the single "Loaded Gun" below.