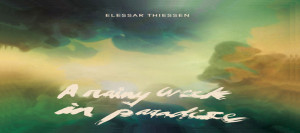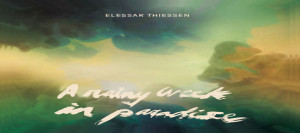 A Rainy Week In Paradise, from Canadian singer-songwriter Elessar Thiessen, is an incredibly poetic and beautiful album. Taking cues from guitarists such as John Mayer, Paradise is a relaxing and refreshing blend of pop and blues that will delight both the ears and soul. Opening with "Another Love Song", a dreamy and quiet intro, Thiessen introduces us to his woozy pop songs that become memorable right from the start. The album's first true track is "I Need A Woman", where Elessar describes his ideal companion, all while providing his audience with a quiet jam that blossoms into a song that we can sing along to.
Next, we have "Without Him", a song that takes very much the same musical path as "Woman", though this time we hear a touch of autotune on the vocal track, which gives the song a very echoic and slightly polished feel that we become attached too, and one that we want to hear again and again. While Elessar has mostly chosen to steer his songs towards a lighter sound with reflective lyrics, on the records title cut we hear a spring in Thiessen's step, as he writes a tune that sounds similar to songwriter Jack Johnson, as the lyrics tell a story of spending time in paradise wherever that may be.
Lastly, we have "The Perfect Bloom" to close the release. Another track that overdubs Thiessen's vocals to make the song sound fuller, he brings us back to his familiar acoustic style, bringing A Rainy Week In Paradise full circle, making it one of the stronger albums we've come across this year.