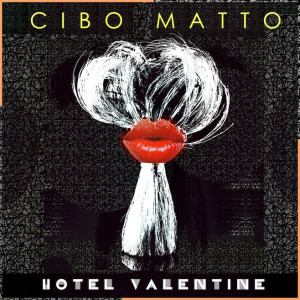 Hotel Valentine, by New York band Cibo Matto (meaning "crazy food" in Italian), are back after a 15 year hiatus with a concept album about a ghost roaming around a hotel. The bands beginnings is an interesting one, as their appeal and popularity is rather small most likely due to their offbeat lyrical themes and creative approach to music. Forming in New York City in 1994 by two Japanese expatriates named Yuka Honda and Miho Hatori; they released two albums before their break up in 2002. Their first album Cibo Matto ,had songs that were entirely about food with titles such as "Beef Jerky", "Birthday Cake" and "Know Your Chicken" which were probably inspired by Yuka's former career as a food writer. The duo's music caught the eye of Warner Brothers Records who signed the group, releasing their next album Viva! La Woman in 1996. Their EP Super Relax (1997) would expand to wider lyrical content as well as seeing the addition of Sean Lennon to the group. The group would go on to release one more album titled Stereo ★ Type A, which would go on to be well received by critics. In 2002, the band disbanded though the two women would keep playing music, often collaborating with each other on various projects.
While the new subject matter isn't deep on Hotel Valentine, it certainly makes for a fun and entertaining album that will pique the interest of anyone who enjoys more unusual music. The opening song appropriately titled "Check In" is a song fused with electronic and pop elements with light and delicate vocals from both Honda and Haturi. On first listen we hear that Cibo Matto is unique enough to not pigeonhole them into one particular genre and that labeling them as such would be too confining. "10th Floor Ghost Girl" brings the groups pop sound to the surface, as we see a little bit of Bjork within the song, given the Icelandic vocalists pop tendencies. As the album progresses, the songs sound and lyrics get a tad eerie as the band writes about being watched in the song "Empty Pool", with lyrics like "in the empty pool I was swimming alone, but I felt someone watching me/In the empty pool I was standing alone, but I felt someone touching me", backed against creepy sounding strings and a sound effect that sounds like something going bump in the night. The albums horror like essence makes for an amusing listen, as it is one of the most different albums to come out in a long time.
The music of Cibo Matto is not for everyone, but if you are willing to take a chance with their offbeat music and lyrical themes you will enjoy their music wholeheartedly, but for everyone else they may seem like nothing more than a gimmick.