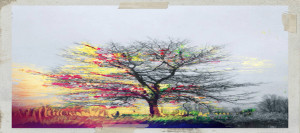 Chicago folk band Cold Country has released a dreamy and relaxed collection of b-sides that come from the recording sessions of their current full length album Willow. The group's latest release titled Fall EP features seven songs that are perfect for the onset of winter, giving their audience a soundtrack to the upcoming gloomy days.
Fall opens with "Scratching The Surface of a Diamond", a slow and relaxing ballad that listeners can get lost in, as we are pulled into the songs sound and feel. The aspect of the track that stands out the most is vocalist and front man Sean McConnell. With his thin and raspy voice, McConnell adds emotion to the tune that makes the song a highly likeable one, with each instrument playing a simplistic role on "Diamond", making everything blend well.
"Song of Return" is a track that shifts in time signature, though the most notable element of the song, and perhaps the most problematic, is the heavily autotuned vocals, which causes the song to lose some of its beauty. Instead of hearing a serene sounding acoustic guitar and quiet vocals, the autotune sounds like it's trying to drown out the rest of the instruments, making the song lose its shine.
The release's closing track "Siamese" switches the EP's sound to a light rock and roll song with psychedelic tendencies, letting the audience know what the band sounds like when they break away from their folk influenced sound. While the song is a strong choice for the release, it has a muddy feel to it which breaks down the EP's rich sound.
Overall, Fall is a wonderful EP that will tie Cold Country fans over until the band releases more new music, and for anyone discovering the group, it's a nice introduction to the quintet and their aptitude for songwriting.
You can listen to the Fall EP below via the band's Bandcamp.