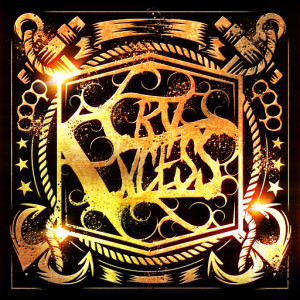 Ambition is the Shit, the debut album from Turin, Italy metalcore band Cry Excess is an explosive album that doesn't offer any surprises, but it will satisfy fans of the genre looking for a new band to listen to, as the group relies on many of metalcore's trademark stylings such as growls, double bass drums, and crunchy guitars, to make their music have a memorable feel. Ambition is the Shit is the follow up to 2013's The Deceit. The album opens with "Ripshit (Hands Up For the Italians)" a dark and brooding track that draws a clear path for where the band wants the record to go. While the tune illustrates an obvious metal influence, Cry Excess also uses a lot of electronic sounds throughout, giving the album a slight industrial feel, similar to Nine Inch Nails.
"Ambition Is The Shit" the records title track, hits listeners with lively guitars and screech like vocals, giving the group a very hard edge that could label the band as extreme metal. With low growls and double bass drums heard throughout "Ambition…", listeners will enjoy the bands endless rage, as their energy seems limitless. "Unto Death" is a tune that really shows the bands playing abilities as guitarists Mark Agostini and Andrew V play seamlessly together to play a song that feels like a brutal attack, all while showing their incredible guitar skills. While the vocals throughout the album are mostly screams, on this particular track we do hear some singing, bringing in more of a melodic tone to the record that we haven't heard before. While we still get the same heavy feeling we heard previously, this new style could mean that the band may try and go more melodic in the future, though Cry Excess gives us no other hints that could point in that direction.
Ambition is the Shit ends with "I Never Liked Clowns", a dark track that features muffled screams and low growls. It doesn't do much for the album, and whether it will be a hit among the bands fans remains to be seen, as it sounds similar to the records previous cuts. Overall, Cry Excess have crafted a great album that really incorporates the metalcore style fully into their album, leaving current fans fully satisfied and new fans curious to hear more.