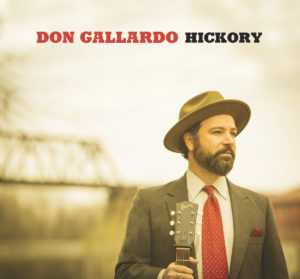 Nashville, Tennessee musician Don Gallardo has just released his new album Hickory, a record full of soft and beautiful songs that is quietly turning heads. Hailing from Northern California, Gallardo relocated to Nashville, Tennessee in 2007 to further a music career he had been working on for years. He released Hickory, his fourth effort, on his own imprint Southern Carousel Records, and is an LP full of tracks that tell a story, as Gallardo pulls you in with his soothing vocals and smooth guitar playing. Claiming that he toes the line between folk and country, on this LP he veers towards the latter, going back to the storytelling ways of his musical ancestors.
Opening with "Down in The Valley," Gallardo hits his fans with a gorgeous opening track that take us away with a violin that is its centerpiece. Sounding at times like a Chris Stapleton album, songs such as "The North Dakota Blues" feels soulful and genuine, picking up the tempo a little bit, with a mild spunk that is enough to keep things going smoothly.
"Will We Ever Get It Right" sounds a bit like its sound and style stems from old time jazz influences. While it still keeps things country enough to let you categorize Gallardo's voice, the songs sound is the biggest departure we've heard from any song on Hickory, and is one of the records most enjoyable cuts.
"Pearls," the closing tune, is the longest song at just over five minutes, though Gallardo keeps things from getting boring with his soft crooning, which makes the song sound like the perfect ending to Hickory. While Gallardo is an entertaining performer, the only hang up for the LP is the surprising lack of faster songs that take a back seat in favor of ballads. While not bad, per se, it would be nice to hear Gallardo's voice in a different time signature, even with the inclusion of songs such as "Will We Ever Get It Right," the records only song that experiments with different time signatures.
As a whole Hickory is a can't miss record, as Gallardo's raw talent and passion for his craft is evident in every song on this album, and while he has had success in the UK, we hope that the US country scene will give him a warm welcome as well.
Released independently in the UK on Clubhouse Records, Hickory is now available worldwide through Bandcamp and Southern Carousel Records.
Take a listen to the opening track "Down In The Valley" below.