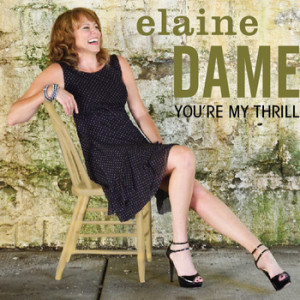 Elaine Dame has been turning heads in the Chicago jazz scene since 1996, and with her latest album You're My Thrill, she will be turning even more heads as her audience will get a chance to experience her relaxed and vibrant approach to jazz. Dame is a graduate of The Theatre Repertory Program at California State Northridge and worked in Chicago's theatre scene before turning her attention to jazz music and singing full time. For almost a decade, Elaine has also been a vocal coach in Chicago.
You're My Thrill opens up with its title track and begins with a stand up bass and Dame's silky voice that captivates us right from the very beginning. The great thing about Elaine and her latest release is how it really sticks to the roots of jazz. With the piano and quiet drums acting as a backdrop for Elaine's vocals, her voice shines through as we get to hear every note clearly. As we listen, we are reminded of the jazz great, Ella Fitzgerald, as Dame sings with a passion and a dynamic presence that comes through the speakers beautifully, as if she were singing right in front of us.
Thrill's next track "Sugar" is a quiet song where Dame's voice is accompanied by a stand up bass that seems to barely make an appearance, though when it does, it compliments her vocals perfectly, while the saxophone adds the hint of spice that is needed to give the track a true jazz vibe. "Something To Live For" is a track that uses the piano to carry the song, giving it pops of color, which makes the tune have a clean and beautiful sound. You're My Thrill ends with "The Dimming of the Day", a rich piano track that really showcases Elaine's fantastic vocal ability, and while it doesn't have the same colorful jazz feel as the records previous songs, the appearance of singer Paul Marinaro, makes the track sound whole and complete.
After listening to You're My Thrill, it is no wonder why the Windy City holds Elaine Dame in such high regard, as her latest record is full of charm and appeal that every jazz fan will warm to.