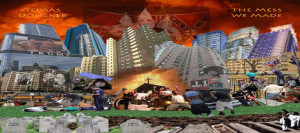 The Mess We Made, the latest release from New York musician Tomas Doncker, is a vibrant and emotional funk and jazz record that you will be spinning for quite awhile. "Some Ol' Dolls" the opening track, gives off a funky and urban vibe, influenced by the cultural melting pot that one finds in the Big Apple. While the song's lyrics give us an idea of how Tomas sees the world, as well as the direction of the album's themes, the music is ultimately what hits us the hardest, as Doncker uses funk music as a backdrop to discuss his political and world views.
"Don't Let Go" is an acoustic number that shows a different side to Tomas and his music, as this switch in flavor is something different for Doncker, as we aren't used to hearing him write quieter tunes. Sounding like it was recorded outside of a studio environment, his raspy voice and darker guitar tone makes the song one of the standout tracks on the record.
To close out The Mess We Made, Doncker experiments with pop stylings on "Time Will Tell" which is an unexplored territory for Tomas. While he has fully mastered the funk and jazz genres and merged them together beautifully, the fact that he has allowed himself to try out different styles says a lot about Tomas and his talents. By taking risks, he is taking his art in an ambitious direction, allowing his audience to really hear what Doncker can do on a creative scale, while also including variety in each song to tide fans over until the next record.
While many of the songs on The Mess We Made deal with heavy subject matter, the music is what makes the release so great to listen to, as it blends feelings, opinions, and creativity to make a truly enjoyable album.
Take a listen to the album's lead single "Church Is Burning Down" below.