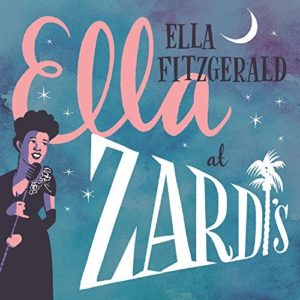 Known as "the first lady of song" throughout her career, Ella Fitzgerald has long remained one of jazz's celebrated greats. For her 100th birthday on April 25th, Verve Records and UME (Universal Music Enterprises) celebrated Fitzgerald's birthday all year long by releasing the following records: 100 Songs for A Centennial, Ella Fitzgerald Sings the George And Ira Gershwin Songbooks, and Someone to Watch Over Me. To end the year long release of music, the label released Ella at Zardi's, a new look into the beginning of Fitzgerald's career on stage, as it sat in the Verve vault until December 1'st, the day of its release.
The performance was recorded at Zardi's Jazzland in Los Angeles, California on February 2nd, 1956. From 1950-1957 Zardi's was known as one of Los Angeles' best spots to see some of the jazz genre's biggest stars. Interactive and friendly throughout the entire set, Fitzgerald's bubbly personality comes through beautifully, particularly when we read that Fitzgerald had an introverted personality off stage. Coming alive from the moment she begins to sing, the hour-long set consists entirely of requests from the audience, offering a unique look at Fitzgerald's career while making you feel like you are in the front row. Backed by pianist Don Abney, bassist Vernon Alley, and drummer Frank Capp, the performance was recorded by Norman Granz, founder of Verve Records, who wanted to celebrate her signing to the label, while hoping that it would give her the attention he felt she deserved after her disappointment with Decca Records, her previous label. Introducing the show, he says, "This is for real; for me she's the greatest there is—Miss Ella Fitzgerald!" Granz's words couldn't be truer as we listen to each song.
Opening with "It All Depends on You," the track, which was made famous by Dorris Day, Frank Sinatra, and Nat King Cole, was never released on any of Fitzgerald's albums, leaving it to become a rare performance. With a voice that delights and thrills, Fitzgerald engages the crowd. Making sure that the audience gets their money's worth, her voice is pure, allowing the audience then and now to hear every dip and peak of her voice, and by the end of Ella  at Zardi's, you are left feeling like you missed a slice of music history.
Taking a request to sing the old jazz standard "Cry Me A River," written by Arthur Hamilton, Fitzgerald responds that "is it like an ocean up here" singing the song with the powerful vocals it needs to get the emotion of the song across. As Fitzgerald sings with almost no effort, you try and imagine yourself sitting at Zardi's listening to the song unfold, giving the LP a special spark.
Taking another request for "Gone with The Wind" by songwriter Herb Magidson (no relation to the novel,) Fitzgerald remains real, admitting to the enthusiastic crowd that she doesn't know all the words, while also asking them if they want to hear it slow or sexy. Playing it slowly she nails every note, making it one of the highlights of the set.
Following with "Bernie's Tune," its one of the more upbeat tracks during the set, and while it includes her famous scat singing, it's sad that the present generation will never get a chance to hear Fitzgerald live, even though Zardi's, is one of the many live recordings Fitzgerald recorded.
Appearing slightly out of breath at this point, Fitzgerald manages to squeeze in "A Tisket a Tasket," a song that seems to be a staple in her live performances. Performing this song plenty of times throughout her career, Fitzgerald drips with confidence during this performance. Ending with "I've Got a Crush on You" which she included on her Ella Sings Gershwin album released in 1950, it's a fantastic ending to a previously unheard treasure. While she ended the set due to running over their stage time, its apparent that if Fitzgerald and her band had had all night, she would have taken the opportunity.
Passing away after a battle with diabetes in 1996, on what would have been Fitzgerald's 100th year, she is introduced to the public once again as one of the greatest vocalists of all time.
Listen to "It All Depends On You" below.