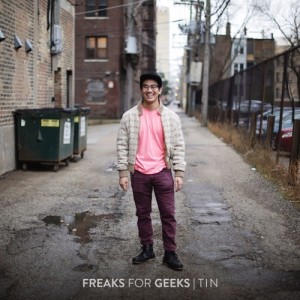 After Chicago funk band May Queen decided to hang things up, its members decided to form Freaks For Geeks, a bridging of rock and hip hop inspired by the influences of The Red Hot Chili Peppers, Rage Against The Machine, Sublime, and The Roots. One year later the group dropped their debut EP Smoke 'Em If You Got 'Em in 2013 followed by their full length album Whatever It Takes in 2015. Now the band is back with a new release titled TIN, a four song EP. Over the past few years Freaks For Geeks have worked hard to get their name known and their unwavering perseverance has finally paid off, as early next month they will be opening for Bay Area rapper MC Lars at the Chicago stop on his tour as he supports his current EP The Dinosaur Zombie EP.
TIN opens with a track titled "Sleep, M.D.", which blends hip hop and rock flawlessly, much in the style of The Red Hot Chili Peppers during their early years, when the California bands love of combining hip hop, funk, and rock was most apparent. Front man and vocalist Eric Slager raps fluidly, while also being careful not to dive too much into the rap genre, as he also provides traditional vocals for the band along with singer Aleksa Narbutaitis who trades vocal duties with him.
"What Might Get Out" is TIN's current single and strongest song on the EP. With catchy guitar riffs from guitarist Ryan Basiorka, both Eric and Aleksa sing perfectly, writing a catchy chorus that makes Freaks For Geeks instantly likeable. While the band certainly shouldn't stray from their love of hip hop, this particularly style really suits them well, and they should certainly consider writing more pop orientated tracks in the future. Lastly, Freaks For Geeks ends their latest effort with a number called "Jakfox" which focuses on doing what you love, and while Eric's rhymes flow well, the song's vibe doesn't jive well and makes the entire track sound awkward due to trying to make two different genres coexist within one song, without taking enough care to really blend them properly together.
For the audience who is looking for a solid convergence of rock and hip hop, Freaks For Geeks will certainly suit your search, as their tracks bring both styles together tastefully while still making their music a unique find.
Watch the music video for "What Might Get Out" below.