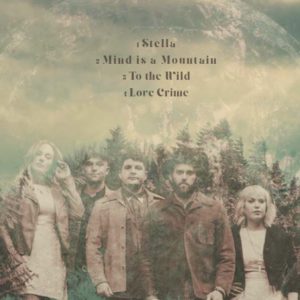 With the release of their debut EP Mind Is a Mountain, Portland Americana band The Get Ahead will be the next hot new band in Americana, as they have dropped a soulful four track EP that is indelible. Opening with "Stella" Mind Is a Mountain is an EP that starts with a reminder of The Black Keys, another Americana and blues duo that has made blues a likable genre for the millennial crowd. Fronted by guitarist Nathan Earle, the release has a very subtle punchy feel, as if the band is giving you a personal performance as the music comes out warmly from the speakers.
The title track is next and with the interjection of country, we realize that The Get Ahead aren't just experimenting with different genres just because, but to make their sound as varied as possible. Wanting to satisfy their audience, the tracks magnetic guitar parts move the number along well and rounds out Mountain's bluesy sound.
"Love Crime" ends the record with a memorable performance from Earle and the rest of the group. As each member of The Get Ahead is heard clearly, we realize how well they gel together, creating a sound that won't be heard anywhere else. All the tunes sound complete on Mind Is a Mountain, and while the group has already found their sound, there also is plenty of room in the future to experiment and utilize their talents to go in a different direction next time, while still retaining what makes the band and their music special.
Listen to "Stella" below.