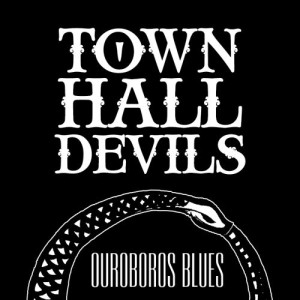 The debut EP from local Austin band Town Hall Devils called Ouroboros Blues is an EP that is filled with songs that will excite fans of Americana and rock and roll, as the band plays their own rough version of both genres to create something that sounds instantly recognizable. Formed by Ky Williams (drums), Micah Hayes (bass) and eventually welcoming Tyson Swindell on guitar a short time later, Town Hall Devils have spent much time perfecting their sound and style so that they can release an EP that they are truly proud of.
The EP opens with "Always On The Run" and the muddy sounding track may sound off putting at first, as some listeners may be expecting a polished sound, but we realize that while the sound might be less than perfect, the group performs their chosen genres well and fans will be able to see beyond this minor flaw. Next we have "Hip, Cool & With It," a blues inspired rock track that has some great guitar work from Swindell, though the rest of the track seems to drag along. The only other negative aspect of the track is that all of the instruments drown out the vocals, leaving fans straining to hear the lyrics, which doesn't make the experience of listening an enjoyable one.
Ouroboros Blues closes with "Kick It Around" a track that takes things down a notch, and provides fans with a nice reprieve from the muddy sounding tunes. Now, we have a sense of what the band is actually singing about lyrically, while being able to hear every instrument clearly. The tunes strong jam band elements make everything flow cohesively, while also having every instrument bounce off of one another. While their first EP has its shortcomings, with time, the Town Hall Devils can become one of Austin's great bands as they have the talent to create great and lasting music.