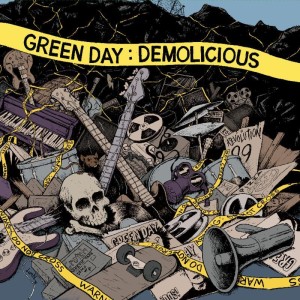 Demolicious, an exclusive Record Store Day release from rock band Green Day is the best material released from the band since releasing their political concept album American Idiot in 2004. For the past ten years, Green Day have tried hard to write music that makes their political opinions known while also trying to make their music and their band as big as possible. That is very different from the bands newest material on Demolicious, a record consisting of eighteen demos from their trilogy album Uno! Dos! Tre! released in 2012. While each album after American Idiot didn't offer old fans the same sound that their 90's albums Dookie, Insomniac, and Nimrod did with their fast and pop inspired punk rock tunes, Demolicious sounds like the band is trying to return to the 90's when the band was at their best even if they didn't intend to. Each demo sounds under produced and very punk rock, and if nothing else Demolicious proves the band have not forgotten their roots.
The record opens with "99 Revolutions" from Tre!, the last in the trilogy installments. The song begins with a pounding beat from drummer Tre' Cool and a slick guitar riff from front man Billie Joe Armstrong. Bassist Mike Dirnt comes in with a strong bass line letting their fans know that they haven't lost their edge. "99 Revolutions" is a punchy tune, regardless of whether or not you are listening to it as a demo or as a full studio version. The song has remnants of Green Day's 1994 album Dookie, since the band plays like they are ready to blow through your speakers, and that they do. The harmonies between Billie Joe and Mike Dirnt are still there, and after twenty years they sound better than ever.
"State Of Shock" and its sound goes back even further in the bands discography to Kerplunk, the bands second (and last) independent record that they released on Bay Area punk label Lookout Records in 1992. While the overall song has a fuller sound than any song on Kerplunk, "State Of Shock" has the mentality that the band is playing music for fun and that they are not concerned with how the song sounds from a production standpoint, which is the same attitude that Kerplunk brought to the table. It's overall feel is an interesting one, especially since it is the records only new track, which might be hinting that Green Day are looking to go back to what they sounded like when they first started. "Stay The Night" is a simple rock tune that fans old and new will love since it could fit within the track listing of any of their albums and ultimately does not fit into one particular Green Day era. "Makeout Party" is another rock and roll tune that is another memorable one with its catchy guitar riffs and Billie Joe's screams. While his screams are not as brutal as in some past Green Day's songs, it shows that Green Day still know how to have fun and that their passion for music is still present.
"Oh Love" is the only boring track on the album, mostly because it doesn't carry the same punchy effect that the rest of the album does. The song certainly sounds like it could not have come out at any time before Uno!, Dos!, Tre!, due to it having a much more repetitive and boring sound, much like their more recent material. The catchy elements of past Green Day songs is lost on "Oh Love" but newer fans will not be fazed by the new sound as they enjoyed Green Day's musical transition wholeheartedly, as the band had a resurgence in fame after American Idiot's release.
There is something for every Green Day fan on Demolicious, whether you've been following them for twenty years or forgot about them after ten. Older fans now have hope that Green Day will still remember where they started when they release their next album, as Demolicious sounds a bit too old at times for newer fans to fully enjoy.