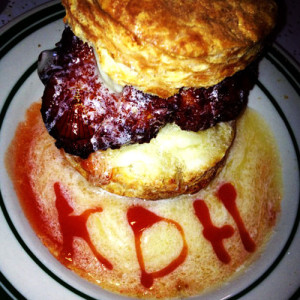 On their latest release Piedmont Rose, New York City rock band KDH churns out eleven southern rock inspired anthems that fans of Creedence Clearwater Revival will enjoy. Sounding slightly like Wisconsin rock band Locksley, the group has put together a solid group of tunes that bridge together pop, rock, and punk. The opening tune "Beloved Devotion" is a southern rock tune that has a vibrant and carefree opening that really lets us get a taste for the style of music that KDH are writing. While group vocals are a huge part of the band's sound, on "Devotion" their vocals sound reminiscent of the Grateful Dead, and while they aren't beautiful sounding, they fit right in with the rock style the group plays.
"Heaven Should" is Piedmont's next tune and its very much in the same vein as "Beloved Devotion" though this time it sounds like the band was inspired to write the song after a road trip, perhaps while touring, trying to promote their hippie rock and roll style. The guitar's on this track sound like a Beach Boy's guitar riff with its gleaming catchiness and tight rhythms, and while the mix feels a bit rough around the edges, its obvious KDH have spent ample time perfecting their craft, and the entire album is evidence of this.
The records closing number, its title track, sounds like a long jam song, as the band plays the music of their parent's generation. While at this point, we weren't expecting the group to squeeze in a slower tune, particularly after hearing the rest of Piedmont Rose's pace, the song ends up working well, as its slow tempo makes for easy listening.
While the only thing bad to say about Rose is the rough sounding mix, the record is well on its way to becoming known throughout the jam band genre as an album that is not to be missed.