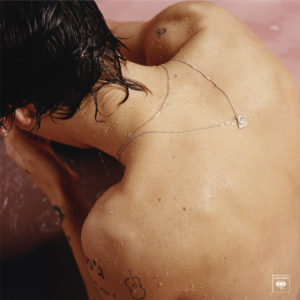 When boy band members release solo records, there is always a chance that they will continue to ride the wave that made them famous, without any regard for growth or change, throwing them into oblivion once their fame dies down. For One Direction member Harry Styles who has released his solo debut which is self-titled, we hear the other extreme. Harry Styles represents Styles in a positive and new light, by writing songs in the vein of classic rock bands, which makes for something unique, edgy, and most importantly, a promising album. While it will no doubt be popular among teens, the new music Styles has written includes something for everyone. For those who are younger, it's a reminder of a change that Styles is making (and doing it successfully,) for the older crowd it's a reminder of their youth, due to Styles wearing his 60's and 70's influences on his sleeve.
Recording the record over the course of a year in Port Antonio, Jamaica at Geejam (with a six-month break to film his upcoming Christopher Nolan film Dunkirk,) it's clear that Styles has worked hard to shed his teenage bubblegum image, where according to the media, the only demographic that could possibly find his talent worthy is teenage girls, despite Styles' huge crossover appeal.
With One Direction evolving their sound over the course of their five-year run, it was obvious that each member had talent that would take them far. Fellow members Niall Horan and Louis Tomlinson have not only become brilliant songwriters, but they've each carved a niche for themselves to illustrate who they are as individual artists. While they have both put out singles, (fourth member Liam Payne will be dropping music of his own next week,) Styles is the first to drop a full album – a fantastic move given that he is the most famous of the four.
Opening with "Meet Me in The Hallway," an acoustic track that has Styles showing off a softer and more sexual side as he talks about leaving a woman's bedroom, fans are ready to welcome this new era for Styles. While the subject of sex was mentioned more passively in One Direction's music, on Harry Styles it makes its way through the LP without feeling like it's too much. The records lead single "Sign of the Times," about a woman giving birth and then losing her life, is nearly six minutes long and has drawn comparisons to legendary artists such as David Bowie. While that might be a bit of a stretch, Styles does have a huge chance of being successful longer then expected as a solo performer.
"Sweet Creature," a recent promo single is one of the records best tracks. Entirely acoustic, the track showcases Styles voice perfectly. If there was any doubt that he can't sing, tunes like "Sweet Creature" will change your mind. While the song could be about several people, Styles wants fans to leave things open to interpretation, and ultimately drawing their only conclusions. While Styles remains mysterious on many levels, he's turned into an excellent songwriter, providing fans with imagery that only comes from someone who is consistently practicing their craft.
Tracks such as "Kiwi" introduce new listeners to what made One Direction unique. With One Direction bringing out the harder edged pop in their later years, "Kiwi" does the same, with Styles sounding like this is where he's supposed to be. He's finally found his home, and he isn't leaving early. "Ever Since New York" which Styles premiered on his recent Saturday Night Live appearance, is a quieter song that will quickly become a fan favorite. A highlight of the track is the chorus, where he and his bandmates sing "oh, tell me something I don't already know." While female musicians haven't made appearance on other LP's Styles has appeared on, having women in his band adds a nice touch due to Styles' long promoted love of equality, while adding an interesting dynamic to the music he's currently writing.
"From the Dining Table" ends the record, and its light feel brings the record full circle. Talking about getting drunk by noon and playing with himself, Styles knows how to sound grown up without being overly so, while adding a little bit of quirkiness into the mix.
The only point that Styles wants to prove on his self-titled effort is that he's here to stay, while hoping that his fans, regardless of their age, stay along for the ride.
Listen to "Kiwi" below.