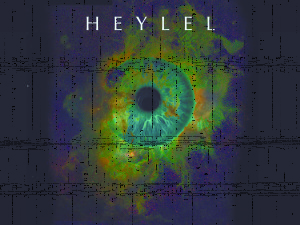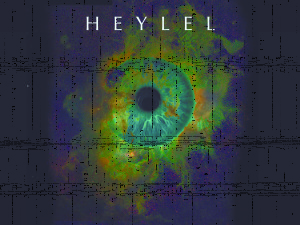 Heylel is a progressive, goth, and alternative band from Portugal. While their music is not for everyone it still makes for an interesting listen as the band sometimes seamlessly combines different genres to write songs that are truly unique. The bands only flaw is that often times throughout the record, their ideas feel a bit disjointed, and on their latest record Nebulae, their creativity feels like it is all over the place.  The band got its start in 2012, and each member brings something unique to the fold.  Front woman Ana Batista, has a strong church choir and classical music background, which brings a delicate and angelic twist to the bands metal and goth inspired sound. Guitarist Narciso Monteiro has offered his skills to a variety of projects which include sound tracking Hans Richter's "Two Pence Magic" for the 2013 edition of the Amares Animation and Experimental Cinema Festival. Filipe Braga, who serves as the band's drummer, also has an established career outside of the band as a photographer, leading him to have a very visual role when it comes to the group's photo shoots. Lastly Sergio de Meneses, was invited by the band to stand in as the bass player, but eventually became a full time member.
The group's music is an interesting wash of sounds that will delight those music fans who are looking for good background music, but for those looking for a lively listening experience they will be highly disappointed. While the band has labeled its music as partly alternative rock, it sounds much removed from that genre, and instead has more of a goth and classical vibe possibly influenced by Ana's classical and choir background. And while her voice is beautiful to listen to, it does not fit with the bands darker mood. The album's opening song "Hope" starts with a soft and delicate piano part with effects that make the song sound a bit atmospheric, and while the opening is a nice introduction to the record, the big sweeping guitar riffs do not mesh with the songs overall feeling of calm. While the band's music has little hints of an alternative influence throughout, it really falls flat and makes us wonder why they threw in the "alternative" label. "The Prophet" the albums second track, picks up a bit more with a pulsing string section and an electronic sound that is reminiscent of Nine Inch Nails. Once it slows down, the rest of the band enters and begins to play what feels like a watered down metal track that wants to feel more grinding than it lets on. Ana's vocals are a nice touch, though its smooth quality sounds awkward with the rest of the bands edgy playing style.
The records fifth song "The Sage" opens with a quiet acoustic guitar and Ana's silky voice, which adds another angle to the band's music. Not only can they perform dark and emotional songs, but they can also slow things down and play ballads, which is what they should be playing instead of metal music that has tinges of alternative music. It is by far the best song on the album as it adds a pretty quality to an album that cannot decide on its direction. Narciso Monteciero plays classical guitar riffs; while also making heavy use of finger plucking and Ana's classical instruction which is also put into place as her voice gives the song a soothing vibe.
The band has also thrown a cover tune into the Nebulae track listing, by covering the King Crimson tune "I Talk to the Wind", and the slow song suits the band as each member really gets to showcase their talent, and every part feels very balanced and not lost in the mix. By slowing the tempo down, we can really gauge the bands playing abilities, and after listening to "I Talk to the Wind", Heylel is quite talented, and performing more songs such as this one can cast them in a more favorable light. The closing track on Nebulae, called "Embrace The Darkness" is a goth inspired tune that opens up like you are about to enter a horror movie scene. Pairing the organ with the dark sound effects brings out the bands somber tendencies, though it feels like the band plays this moody sounding intro for way to long, until Monteciero plays another heavy and bracing guitar riff that grips the listener, as now the spotlight is now fully on him as his abrasive playing takes over. Aside from this, the track feels incomplete, like the band wanted to hit listeners with a dark burst of sound, but then as the music abruptly stops and ends, we are left with the possibilities for where the song could go, but instead it leaves us hanging.
If you are looking for music that's out of the box, Heylel will satisfy your search, though there is not much else to be said for their messy and incomplete album.