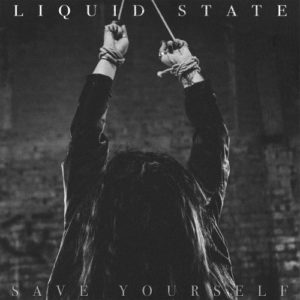 Taking influences from Periphery, Marmozets, and Arcane Roots, Bristol, England band Liquid State features boundless energy, thrashing drums, and thunderous guitar riffs that make the band a must listen. After winning a battle of the bands competition in their hometown last year, the group set off on a path of dropping new songs and performing as many gigs as possible.
Opening with "Temper," Liquid State waste no time getting their audience completely immersed in their new EP Save Yourself. Adding a softer touch to their sound with front woman Keren Ashley's vocals, audiences won't be able to deny that that the Bristol quartet comes on stage to impress and blow away, while making their next body of work even better then before.
Tracks such as "Dirty Little Preachers," is a slow, pounding rock song that encourages fans to listen to every sound happening throughout. While the number is to heavy to be considered a ballad, Ashley is a force to be reckoned with, and while Bristol's latest foursome is not performing right in front of us, as we listen to Save Yourself, we imagine the band on stage with Ashley's powerhouse vocals front and center.
Closing with "After Hours," Liquid State has left the best tune for last, as the track opens with the catchiest brain lodging riff we've heard on Save Yourself. Sounding like it could earn a spot on a small radio station in the UK, after listening to Save Yourself as a whole, it feels like the band will have no problem making themselves known throughout the UK, with their next challenge being to conquer America.
Listen to "Unscathed" below.
Featured photo by: Ali Fewell