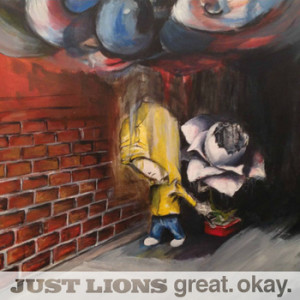 Just Lions are a pop rock band from Portland, Oregon with a new colorful EP titled Great.Okay. While the title tells us almost nothing about the EP and its addictive melodies and riffs, the band really lets the music do all of the talking, and by the end of the EP, we have nothing but good things to say about Just Lions and their music. Getting their start after a trip to Denny's Diner in 2008, Just Lions includes siblings Chandler Strutz on guitar and vocals, Brady Strutz on bass, and long time friend Andrew Shepherd on drums. While the band counts The Beatles, Elliott Smith, Radiohead and Weezer among their influences, the band has written a vivid EP that includes three appealing tracks, while experimenting with a myriad of different styles, and while we wish it were a longer effort, the bands likeability will win listeners over as each song is packed with a great mix of pop, rock, and jazz music. Great. Okay, opens up with the album's title track as we hear a carefree whistle from one of the members, immediately illustrating that the band wants to present a relaxed vibe throughout their songs, with its warm tone and jazzy guitar parts. The song also has hints of the band being influenced by surf rock, along with Katie Carlene on backing vocals, giving the track an easygoing and delicate feel. The EP's second tune "Everything Goes Away", explores the surf rock genre even more, as Chandler plays a catchy riff that is reminiscent of the early rock and roll music of the 1960's. Throughout, Chandler demonstrates that he is a great guitarist, playing colorful riffs along with the background vocals which provide a rich texture to the track.
"On The Road" is the EP's closing tune and it is by the far the most rock and roll sounding song when it comes to intensity. Chandler opens the track with a buzzing guitar riff that shows listeners that the band can really rock. The drums are also lively too, and we get to experience a taste of Shepherd's drumming, as he keeps the beat steadily, while also keeps things interesting by changing up the time signature. He also makes use of the bands jazz influences by playing a jazz style beat to close the song, bringing in another dimension to their music. Katie Carlene makes another appearance on this track, making it reminiscent of the band Best Coast from Los Angeles, due to the songs summary feel.
After hearing Great. Okay. it is clear that Just Lions will be the next breakout Portland band as all of the members (including their guest vocalist) will leave your ears buzzing with excitement and a drain on your wallet, as it will be a little lighter after purchasing Just Lions catchy blend of pop, rock, and jazz tunes.